Royal Caribbean's new Quantum of the Seas arrives Bayonne, New Jersey on November 10, 2014.
It's getting closer.  When Royal Caribbean first announced the Quantum of the Seas project, the cruise world was abuzz with speculation.  Is Royal Caribbean changing the cruise game yet again?  After the all excitement generated when Royal Caribbean introduced the two largest ships in the world, the Oasis of the Seas and the Allure of the Seas, you'd think that bigger would be better.  Think again.
When the new Quantum of the Seas debuts in November 2014, this will be the first time that Royal Caribbean has downsized their newest ship in weight, length and even passenger capacity. But this doesn't mean downsizing the amount of their incredible "firsts" at sea or supersizing already popular onboard attractions.
So what are the innovations that have "cruise fanatics" jumping up and down to plan their Quantum of the Seas cruise?
Accommodations
Solo travelers will love the addition of 12 new studio staterooms with balconies! For those on a budget, the Quantum of the Seas will offer 16 studio interior staterooms. Twenty-eight staterooms specifically designed for the solo traveler.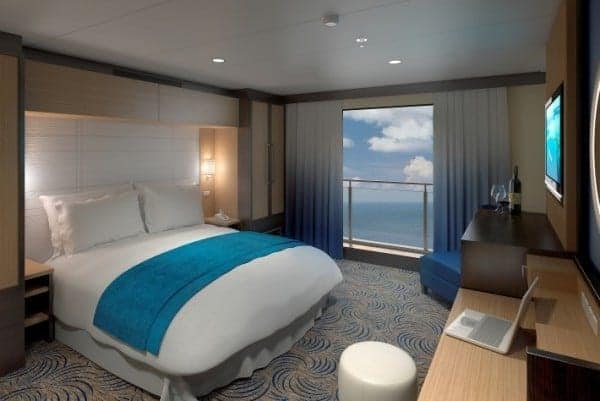 Interior rooms with a view? Well, sort of. There will be 373 interior staterooms with Virtual Balconies. Guests will see real-time views of the ocean or destinations from their "balcony" as though they were looking through sliding glass doors.
Large groups (families, friends) traveling together can reserve new Family-Connected staterooms, which offer the combination of three different stateroom categories plus a central meeting space. Separate bedrooms and bathrooms mean no waiting in line to shower and change after a day at the beach.  Of the 2,090 staterooms, 37 will be wheelchair accessible.
Activities designed for thrill-seekers
You'll swing up and out 300 feet above this ship when you step into North Star. Suspended on a crane, the spaceship-like glass capsule will carry several daring passengers at a time on an uplifting voyage with spectacular 360-degree views.
Wannabe sky-divers (and real ones, too!) will jump for joy when they experience RipCord by iFly, the very first sky-diving experience at sea.  After you've suited up in a jump suit, helmet and goggles, you'll be guided into the 23-foot tall clear-glass flight chamber at the aft of the ship. After briefing and training, up you go! Flyers will have two, one-minute breathtaking experiences.
Entertainment for everyone
Reminiscent of family amusement parks, Royal Caribbean bills SeaPlex as the largest indoor active space at sea.  Drive yourself crazy with old-fashioned bumper cars or lace up a pair of roller skates and glide around the rink while the resident DJ spins the tunes. For those that have always fancied themselves as circus performers, the Quantum of the Seas will offer Circus School which includes trapeze lessons.
Nearly three decks tall with floor-to-ceiling glass windows that provide a 270 degree view of the sea, Two70 ͦ  is the exciting new Royal Caribbean dining and entertainment concept.  By day, it's a dining marketplace on one level with a library and a variety of enrichment opportunities on the second level. At night, Two70 ͦ transforms into a high-tech entertainment area with daring aerialists, pulsating music and enormous LED screens.
Following the November 2, 2014 transatlantic crossing from Southampton, the Quantum of the Seas will arrive at her homeport of Bayonne, New Jersey.  From November 23 through April 2015, the ship will sail a series of 7- and 8-night cruises to the Bahamas and Pt. Canaveral, Florida and 9- through 12-night cruises to the eastern and southern Caribbean.
Check out the children's programs aboard all of the Royal Caribbean ships.
I'm the editor and creator of CruiseMaven.com and self-appointed "expert" on cruises, trains and solo travel.  By sharing news and reviews plus my cruise and travel experiences, I hope to entertain, inform and inspire you to travel the world without flying.  Be sure to enjoy a local meal and a glass of wine along the way.