Princess Cruises announced that their two newest ships, Sky Princess and Enchanted Princess, will have the first jazz club at sea, aptly named Take 5 Jazz Theater.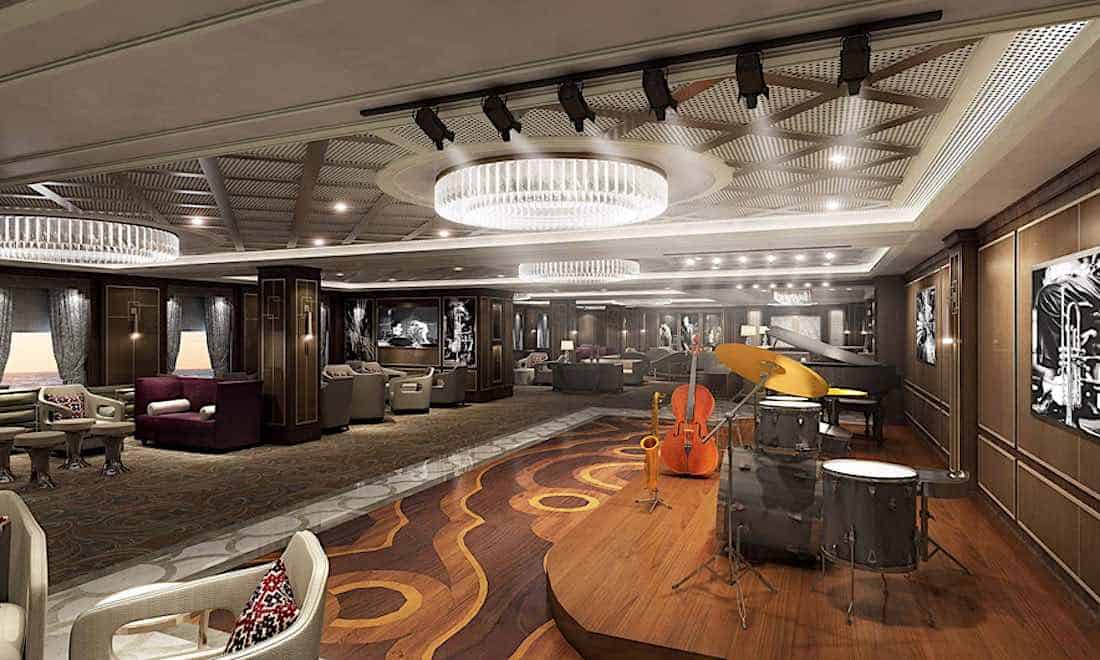 Princess Cruises Take 5 Jazz Theater Details
Guests will be able to listen to their favorite jazz sounds onboard the new Sky Princess and Enchanted Princess at Take 5, the first jazz theater at sea. The new lounge will feature hand-crafted cocktails by Princess partner and Master Mixologist Rob Floyd in a trendy bar setting.
When Take 5 Jazz Theater debuts onboard Sky Princess (October 2019) and Enchanted Princess (June 2020), the lounge will showcase the roots of jazz, the birth of BeBop, contemporary jazz and iconic female artists.
Take 5 Jazz Theater celebrates this uniquely American art-form. There will be live performances by dedicated jazz musicians, dance lessons, engaging speakers and workshops, guest performers and after-hours parties. It will also feature surprise, pop-up performances so no two nights are the same. Curated media will play on screens including archival footage and iconic images of jazz musicians.
READ NEXT: Take a look at Princess Cruises' new cocktail menu
Take 5 Jazz Theater special performances
A Night in Harlem: Take 5 Jazz Theater will reverberate with sounds of the roaring 1920s prohibition era. There'll be music from artists like King Oliver's Creole Jazz Band, New Orleans Rhythm Kings, Original Dixieland Jazz Band and Charles "Buddy" Bolden.
The Birth of Big Band and BeBop: Features late 1940s, post-war jazz and the birth of BeBop. Listen to music from artists like Charlie Parker, Coleman Hawkins and Dexter Gordon.
The Way You Look Tonight: Celebrate the incredible women of jazz throughout history. Guests can expect songs from artists like Ella Fitzgerald to Billie Holiday to Norah Jones.
Toda La Noche – Fiery Afro-Cuban Jazz: Listen to Caribbean Afro-Cuban jazz spanning Latin, European and African American influences. Before the show, take salsa lessons to popular Buena Vista Social Club covers. Featured music includes songs from artists like Tito Puente, Irakere and Dizzy Gillespie.
A Sophisticated Evening of Cool: The cool jazz sounds of the 1950s feature an ultimate American jazz road trip, with the sounds from New York to California. Featured music from legends like Miles Davis, Chet Baker and John Lewis. And of course, the original 1959 Take Five, written by Paul Desmond and performed by the Dave Brubeck Quartet for their iconic jazz album, Time Out.
Contemporary Directions: A Festival of Jazz with jazz through the decades that features local artists from the various destinations on the ships' itineraries.
As someone who loves jazz, I'm looking forward to experience the Take 5 Jazz Theater. If you're not a fan of jazz, would you at least stop in to see what it's all about?
I'm the editor and creator of CruiseMaven.com, a solo traveler cruising the world on waves and wheels, collecting recipes along the way.  I hope my articles and photos entertain, advise and inspire you to travel the world without flying.  Take a breath…stop for a local meal and a glass of wine along the way.