The Margaritaville at Sea Paradise inaugural event, the first cruise ship branded by Jimmy Buffet's iconic label, took place on May 12, 2022 at the Port of Palm Beach. Some of you may remember this ship as the former Grand Paradise, the one remaining ship in the former Bahamas Paradise Cruise Line fleet.
Built in 1991, Paradise was once Grand Classica, from Costa Cruise Line. Though there aren't any standard balcony staterooms, just a handful of suites with terraces, the ship has been almost-totally "Margaritaville-ized" Nearly every inch of the ship has been refurbished and reverberates a tropical and fun experience.
Margaritaville at Sea Paradise Inaugural
The official festivities were presided over by Margaritaville CEO John Cohlan, CEO of Margaritaville at Sea Oneil Khosa, and Kevin Sheehan, President of Margaritaville at Sea. Former USC and NFL football star Shaquem Griffin was named the "Godfather" of the new ship. He stated he was "proud to be onboard as part of the journey."
Khosa remarked "The journey has not been an easy one, and we've battled many challenges, but the best part of Margaritaville at Sea is that this product is so truly innovative, we only have ourselves to compete with, as we push to deliver an unprecedented experience to travelers that gets better and better"
Following the ceremony, a surprise visit by the "Master Parrothead" himself, Jimmy Buffet, was joined by some Coral Reefers for a Caribbean-flavored concert to put a final stamp on the christening festivities.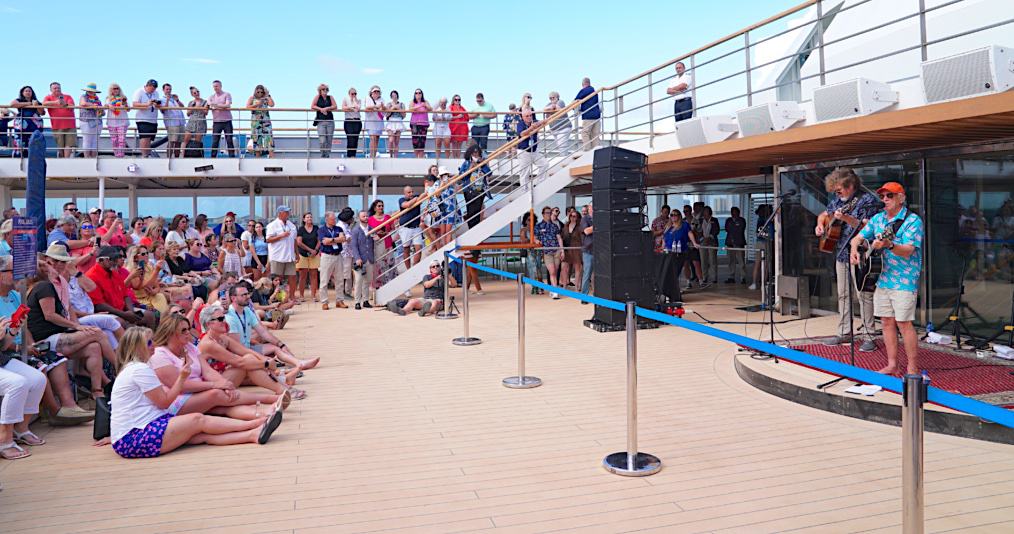 Margaritaville at Sea Paradise has 658 cabins that range in size from148 to 506 square feet. The décor is, of course, a relaxing island theme. As one would expect, vivid colors with a tropical vibe instill a laid-back ambiance throughout the ship.
There will be many choices for dining that include JWB Prime Steak and Seafood, Frank and Lola's Pizzeria. The 5 O'clock Somewhere Bar, the whimsically named Port of Indecision Buffet.
There are two supervised kids-only venues and one family-style swimming pool. The second pool is adults-only.
For the risk-takers there is the Par-A- Dice Casino and for the health crowd there is the Fitness Center and the St. Somewhere Spa. This is only a partial list of the many activities available to passengers.
Margaritaville at Sea Paradise offers two-night cruises from the Port of Palm beach to Freeport, Grand Bahamas. Those who want to extend their Parrot Head experience can also book the cruise line's "Cruise and Stay" package by adding two- to four-night hotel packages on Grand Bahama Island.
Prices begin at $169 per person for the two-night cruise.
By: Jan Nace