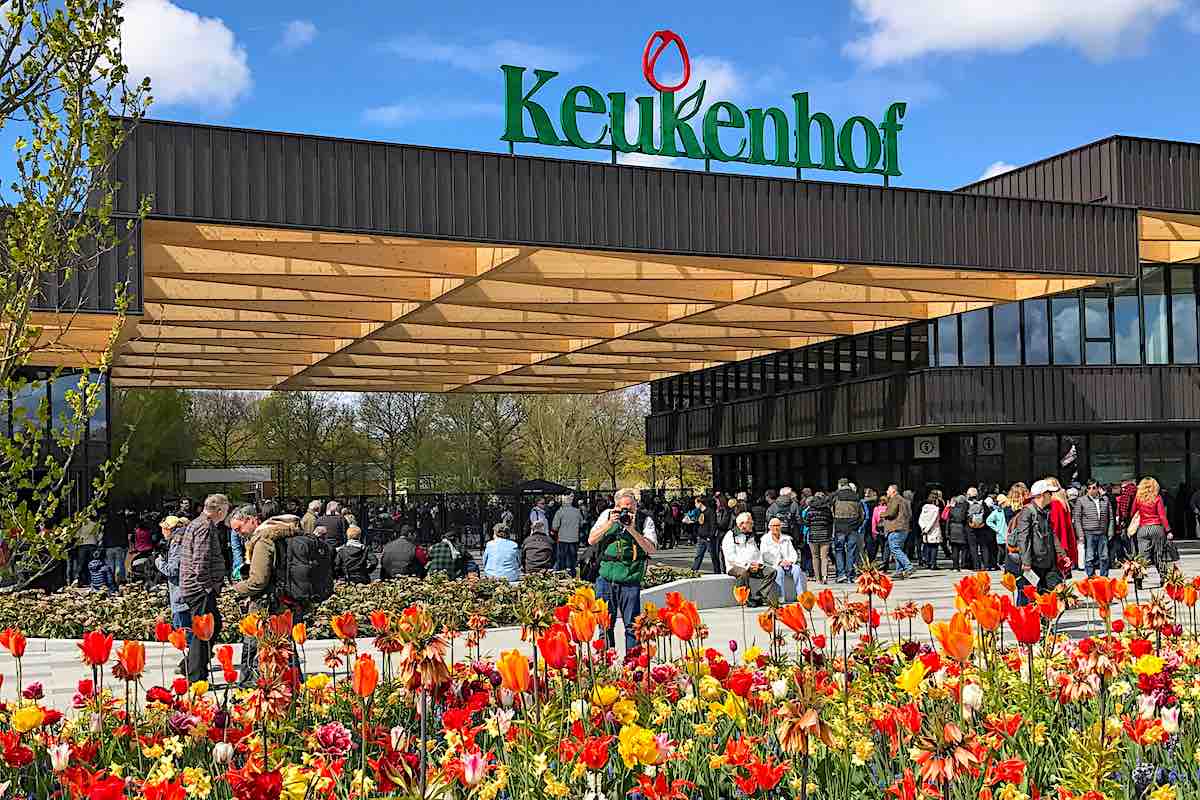 I'm not much of a flower-person. It's nice when someone surprises me with a lovely bouquet. Or when dozens of fragrant gardenias cast their spell in my garden. My mother loved to garden and planted a cornucopia of colorful flowers that would bloom one right after the other. I, on the other hand, went for vegetables and herbs.
When I had the opportunity to visit the most famous tulip garden in the world, I sort of shrugged and quietly mumbled something that sounded like, "Sure".
Keukenhof Gardens
The annual tulip festival at Keukenhof Gardens is a super-huge springtime event that draws nearly curious visitors from around the world. Everyone wants to see the tulips. All 7 million tulip, daffodil and hyacinth bulbs on nearly 80 acres. 800 varieties blooming in sequence, just like my mom's flowers.
For just about eight weeks each spring, 100 participating flower companies have a chance to showcase their bulbs and plants. 500 fervent flower-growers get to work setting up 20 flower shows scattered throughout the manicured gardens or indoors at the Juliana Pavilion.
I was lucky enough to be aboard AmaWaterways AmaKristina which included a day trip from Amsterdam to Lisse, Netherlands to Keukenhof Gardens. We didn't have to contend with figuring out how to get there, worry about parking or buying tickets.
Over the eight weeks of tulip fever, at least one million people visit Keukenhof Gardens every year. Sprawling parking lots look like a sea of gleaming motor coaches…no less than 1,500 on any given day. Yes, I was very happy to have the chance to tiptoe through the tulips with someone else doing the planning and driving.
In 2018, Keukenhof Gardens will be open from 22 March through 13 May. If you want a river cruise that includes Amsterdam and a visit to Keukenhof, now is the time to make your reservations. When's the best time to go? With the uncertainty with the weather these last few years, it's really tough to predict the best week to go. If the winter is extra cold and lasts into March, it will slow the blooms. Too warm and they'll pop their colors early and by mid-April, the tulip heads will all be cut.
General consensus seems to agree that the last two weeks in April and beginning of May could be prime time. Almost all river cruise lines that start and stop in Amsterdam during those eight weeks include a trip to tulip town.
With camera and iPhone in hand, I wandered the grounds for nearly three hours. Here are my photo memories of this extraordinary place. No need for captions or comments…the images speak for themselves.
And yes, this once flower-skeptic can't wait to go back again.
Love tulips? Then it's time to reserve your tulip time river cruise. Cruise lines that will include a trip to Keukenhof Gardens in 2018 include, alphabetically: A & K, AmaWaterways, Avalon Waterways, CroisiEurope, Crystal, Emerald Waterways, EuroWaterways, Tauck, Uniworld and Viking.
I'm the editor and creator of CruiseMaven.com, a solo traveler cruising the world on waves and wheels, collecting recipes along the way.  I hope my articles and photos entertain, advise and inspire you to travel the world without flying.  Take a breath…stop for a local meal and a glass of wine along the way.