Royal Caribbean's Serenade of the Seas became the first major cruise ship to visit Alaska since the Alaska cruise season ended in 2019. With fanfare befitting a returning hero, the pier was lined with Ketchikan city and borough officials, local business owners and even an Alaska senator.
Though Royal Caribbean labeled this sailing a test voyage to comply with CDC regulations, the arrival marked the hopeful beginning of what time is left for cruises to Alaska this year.
Aboard the ship were volunteer passengers who, along with crew members, were testing the CDC protocols if there were to be an outbreak of COVID-19 on future cruises.
Serenade of the Seas Arrives into Ketchikan
The most notable guest to welcome Serenade of the Seas to Alaska was U.S. Senator Lisa Murkowski (R-AK). Royal Caribbean's Serenade of the Seas arrived into the Ketchikan port followed by the welcoming ceremony.
Hosted by CLIA, the Cruise Lines International Association, Senator Murkowski was presented with an award in appreciation of the role she played to help craft and pass the Alaska Tourism Restoration Act (ATRA).
READ MORE: Radiance of the Seas Review on My Alaska Cruise
In addition to the passage of the Alaska Tourism Restoration Act, it was also necessary to implement a waiver of the Passenger Vessel Services Act so that Alaska-bound cruise ships can bypass the required service call in Canada.
It's a short cruise, from Seattle to Ketchikan and back again.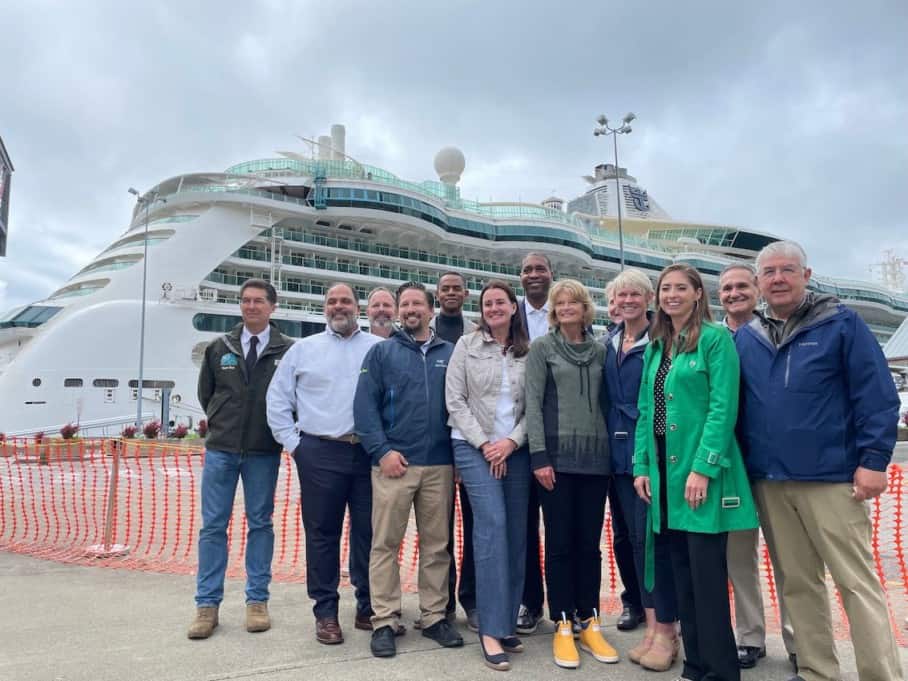 According to a report from Alaska Public Media, an unauthorized representative from Royal Caribbean revealed that there were around 300 passengers onboard, mostly Royal Caribbean employees from the cruise line's Oregon office and their guests. Approximated 800 crew members were also onboard the test cruise.
READ NEXT: What to Pack for an Alaska Cruise
The reason that Royal Caribbean decided to do the test cruise was to avoid the CDC mandate that at least 95% of the passengers and crew were fully vaccinated against COVID-19. A simulated cruise is the only alternative given in lieu of vaccine requirements.
Eight Cruise Lines Plan Alaska Cruises Through the Fall
Despite the shortened Alaska cruise season and with hopes of no COVID outbreaks, eight cruise lines plan to send at least one ship to the Last Frontier.
These include Carnival, Celebrity, Holland America, Norwegian, Oceania, Princess, Royal Caribbean and Silversea Cruises. Smaller cruise ship companies like Alaskan Dream Cruises, UnCruise and American Cruise Lines also have summer and fall Alaska departures.
The last ship to arrive in Ketchikan will be on October 21, well-past the normal stay in Alaska for the big ships. When Norwegian Encore docks in Ketchikan, passengers should expect some serious cold weather and gusty winds to blow through the Inside Passage.
Even then, Norwegian will still require that all guests show proof of full COVID-19 vaccination, taken at least two weeks before to embarkation. Guests also must provide a negative COVID-19 antigen test result before embarkation, paid for by the cruise line. Guests not old enough for the vaccination or not eligible for the vaccine will not be allowed to sail.
I'm the editor and creator of CruiseMaven.com, a solo traveler cruising the world on waves and wheels.  I hope my articles and photos entertain, advise and inspire you to travel the world without flying.  Take a breath… stop for a meal and a glass of wine along the way.