Cruise line's private island adds new villas and even more horses.
Time flies when you're having fun and visitors to Holland America Lines' private Bahamian island, Half Moon Cay, will attest to it. One of the most popular destinations on a Holland America cruise is, oddly enough, a day spent at Half Moon Cay. To make this eight-hour experience even more memorable,
Holland America has added five new two-story Beach Villas available for daily rental. What's it like to rent one of these villas?
With a second-story hot tub, gorgeous views of the ocean and room to relax, it's like having your own beach house for a day. There's even a Grand Cabana that boasts a slide from the deck right into the ocean. Existing one-story beach cabanas have been refurbished as well.
"For 15 years, Half Moon Cay has continuously been recognized as the most popular private island in the Caribbean, and to celebrate this milestone we have added several new features," said Richard Meadows, executive vice president, marketing, sales and guest programs. "Our guests already rate Half Moon Cay as their favorite Caribbean port call, and these new enhancements will make the island even more enjoyable."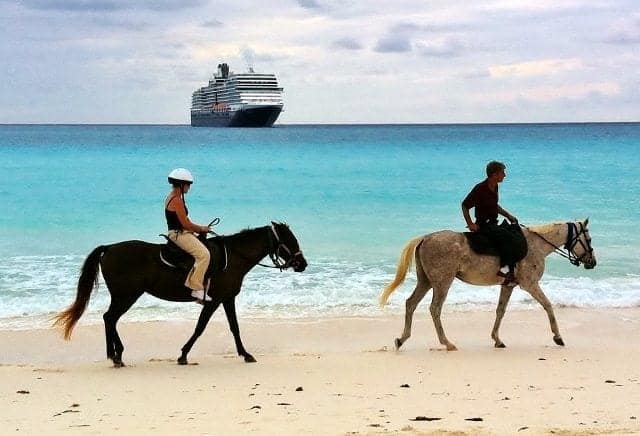 Horseback riding in the ocean is extremely popular, so much so that six horses have been added to the existing stock. Even if you don't want to go for a thrilling ride in the ocean, you can walk over to the stables and simply watch the horses as they come and go from their paddock.
Those looking for a more passive Caribbean experience will appreciate a ride on the new 290-passenger glass-bottom boat, touring over coral reefs and schools of tropical fish. Head over to Stringray Cove for an upclose swim with the stingrays. Or just unwind at Captain Morgan's outdoor Bahamian bar and cool off with a tropical foo-foo drink. If you dream of having your wedding ceremony or vow renewal on your cruise vacation, the quaint Bahamian Church has a coat of fresh paint, new pews and colorful artwork.
Because this island is a waterfowl nesting area as well as a migratory bird sanctuary, Holland America has made a commitment to preserving most of the island in its natural state.
Where is this idyllic hideaway located? Half Moon Cay is actually 1,700 acre Little San Salvador Island, situated halfway between Eleuthera and Cat Island, right in the middle of the Bahamas chain of over 700 islands.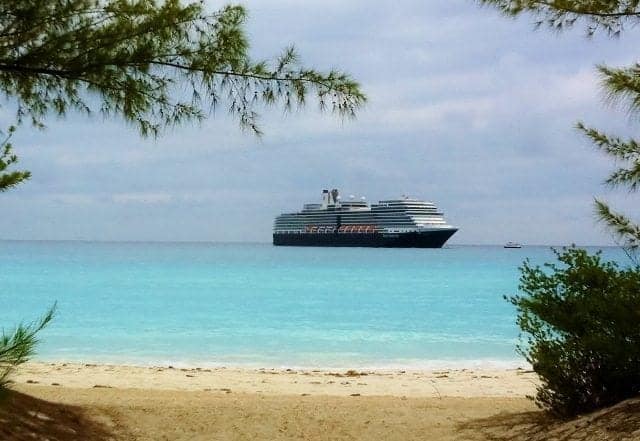 For more information visit HollandAmerica.com
Photo credit:  Sherry Laskin, all except the new Beach Villas.
I'm the editor and creator of CruiseMaven.com, a solo traveler cruising the world on waves and wheels, collecting recipes along the way.  I hope my articles and photos entertain, advise and inspire you to travel the world without flying.  Take a breath…stop for a local meal and a glass of wine along the way.