Carnival LIVE and country music star Martina McBride receive standing ovation.
If you love live music, Carnival has just the ticket for you.  It's something totally new to the cruise experience and I was able to test it out aboard the Carnival Ecstasy.
What is Carnival LIVE?
While the ship is in port, the scheduled band or singer comes on board for a one-night, one-show only evening performance.  Carnival has a lineup of popular bands and solo recording artists (click here for the list of who's playing and when) who entertain but don't stay overnight aboard the ship.
Those interested in a Carnival LIVE concert cruise can book the trip and buy their show tickets online.  Launched in April 2014, this first year has a total of 15 artists who'll perform in 49 shows in three different ports; Cozumel, Nassau and Catalina Island.  With a remaining 35 or so shows left this year, there's a good chance that something will fit your schedule.
The Experience
Carnival LIVE concerts take place in the ships' main show lounges.  Aboard the Ecstasy, the event was in the Blue Sapphire Lounge with seating for only 800+ guests.  It's an intimate venue and with only 12 rows of seats on the main floor and a balcony with another dozen or so rows, there's not a bad seat in the house.
Our concert, featuring country music superstar Martina McBride, took place during our visit to Cozumel, Mexico. The show was scheduled for 9:00p.m.  so I arrived about 8:45p.m., in time to scope out the theater, do a lighting check for my camera and of course, people-watch.
Passengers with the $20 general admission ticket were seated in rows 6 though 12, while those who bought the VIP ticket at $100, had reserved seating in rows 1-3.  Pretty cool seats, especially for die-hard Martina fans.
The Show
As the lights dimmed, four of Martina's musicians made a unique entrance from the main doors, playing various brass instruments as they paraded onto the stage.  Then Martina's three glamorous back-up singers entered and took their marks, followed by the star of the show. Dressed in a glittering silver pantsuit, black patent leather high-heels and beneath dramatic blue lighting, Martina exuded a superstar presence from the get-go.
Whenever an old favorite song began, Martina's fans would make a beeline for the stage, where they'd jump, sing along and shoot selfies of themselves with Martina in the background.  You can't do that in a theater with 4,000 people.
Eighteen songs and one encore later, her show ended with thunderous applause and another standing ovation.  As guests slowly filed out of the Blue Sapphire Lounge, all I overheard were raving reviews.  The venue, the performer and the entire show were all a huge success.
I hadn't heard of this song before the cruise. After listening to this video, I understand why it was so emotional for so many women in the audience.
As for Martina McBride, she practically flew to her dressing room, quickly changed into a t-shirt and jeans, and raced to meet us in the conference room for a brief press interview.  Then she was off the ship to spend a hotel night in Cozumel, and onto the Carnival Paradise the next evening for another concert.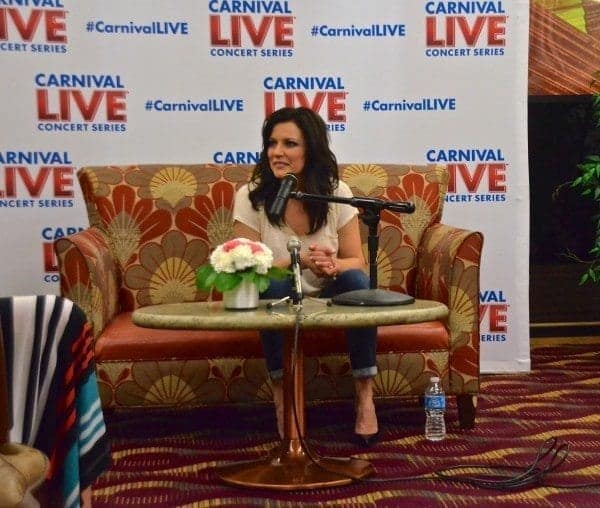 How to Book a Carnival LIVE Concert
Click here to go to Carnival.com for the entire calendar-based lineup of bands and individual performers for 2014. Once you've decided on your cruise and made your deposit, you'll be able to get online to purchase your concert ticket.
Not sure if you should buy the VIP ticket?  If you do, you'll get a pre-show meet and greet with the band or singer, a glass of champagne, complimentary photo and seating in the first three rows.  While there's not a bad seat in the house, if it's within your budget, the VIP ticket really enhances the experience.
Since tickets are limited, especially the VIPs, don't wait too long to purchase them.  While there may be a few unsold tickets available to purchase onboard, it doesn't make sense to take a chance if the main reason for your going is to get up-close and personal with your favorite band or entertainer.
As for me?  I'm looking at the November 16th or 17th Lady Antebellum concert!
I'm the editor and creator of CruiseMaven.com, a solo traveler cruising the world on waves and wheels, collecting recipes along the way.  I hope my articles and photos entertain, advise and inspire you to travel the world without flying.  Take a breath…stop for a local meal and a glass of wine along the way.