Virgin Voyages to open their Palm Grove cruise terminal in 2021.
Sir Richard Branson and Miami-Dade officials announced plans to build a 100,000-sq. ft. Virgin Voyages cruise terminal at PortMiami. In addition, Virgin Voyages' yet-unnamed second ship will sail from Miami during the fall/winter cruise season of 2021/2022. Their first ship, Scarlet Lady, will continue Caribbean cruises from late 2020 and throughout 2021.
Valentine's Day is Special
Sir Richard Branson also announced that Virgin Voyages will begin taking reservations for its inaugural season on February 14, 2019, for the general public. Sounds like a great Valentine's Day gift to me. Those who already have pre-sale deposits will be able to reserve their cruise a little sooner, on February 5.
About the new Virgin Voyages Terminal
The new Virgin Voyages Cruise Terminal will be located on the northwest side of PortMiami. Construction on the new terminal will begin next year with a finish date of November 2021.
As you can see in the photo, the terminal's rooftop will be designed to look and feel like an old Miami palm tree grove. Daylight will stream into the building through skylights and will glow at night with the iconic Virgin Voyages red logo. Built with storm-proof glass, the covered second story will be landscaped and be the designated drop-off sport for VIPs, ride-sharing and other transportation. The concept is to make embarkation and debarkation feel as seamless as possible.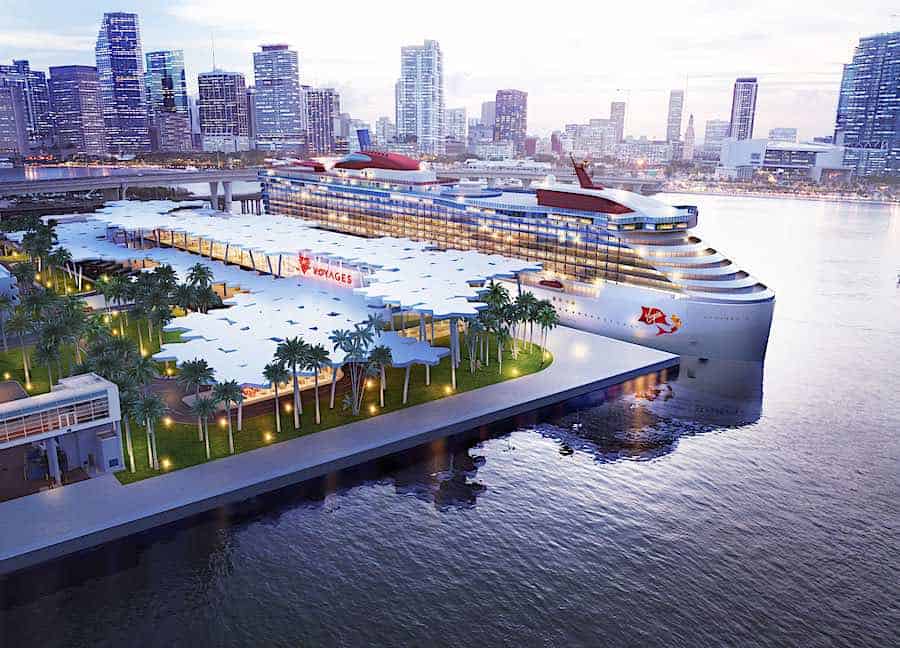 Keeping the ocean clean and green
It's not all fun and games as Virgin Voyages stresses its sustainability goals. The new Virgin Voyages PortMiami Terminal is targeting a LEED Gold Certification from the U.S. Green Building Council.
On December 2, 2018, in conjunction with Ocean Unite, Virgin Voyages is sponsoring Sir Richard Branson and Fabien Cousteau's Aquatica submarine dive to Belize's Blue Hole, part of a UNESCO World Heritage site. It's noteworthy to mention that Virgin Voyages supports ocean research and conservation projects like the Blue Hole Expedition, to help raise awareness of the fragility of our oceans.
I'm the editor and creator of CruiseMaven.com, a solo traveler cruising the world on waves and wheels, collecting recipes along the way.  I hope my articles and photos entertain, advise and inspire you to travel the world without flying.  Take a breath…stop for a local meal and a glass of wine along the way.