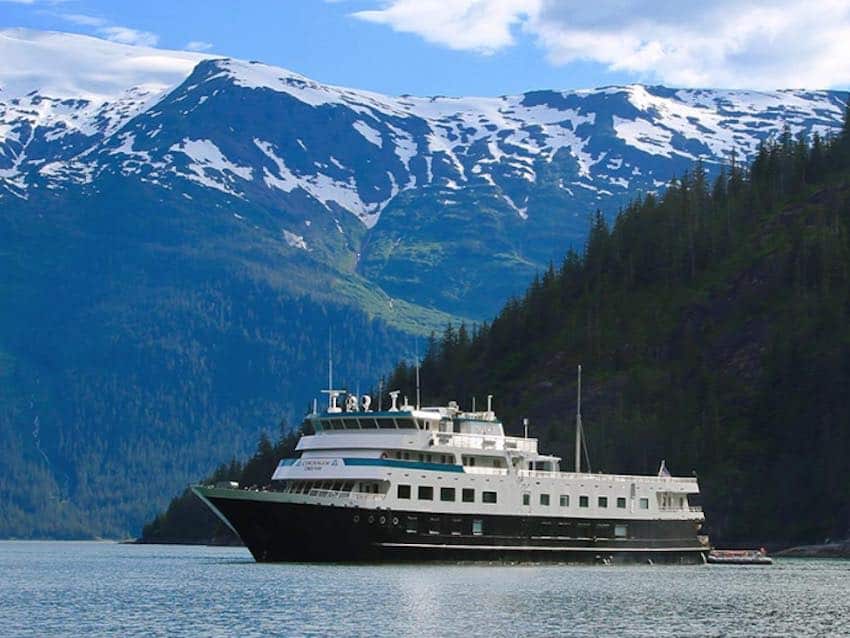 Alaskan Dream Cruises is a family owned and operated small-ship cruise line based in Sitka, Alaska. The Allen family grew up operating boat tours and building vessels in their shipyard. Then in 1970, they resurrected a sunken yacht and outfitted it for sightseeing tours. The close-knit communities and care that Alaskans have for each other led them to coin the term 'True Alaskan Hospitality," whose meaning is the guiding principle for the line and its employees today.
Ships: Six
How Many Passengers: From 10 – 84 passengers.
Personality: Life aboard an Alaskan Dream Cruise is simply comfortable and laid-back. There is no dress code. Because their ships are small and intimate, passengers get to know each other – and even some of the crew – quite well.
Fellow Passengers: Guests are mostly American, but the line also draws from South Africa, Australia, and travelers from parts of Europe. You'll also find Alaskans onboard, looking to explore more of their home state. The age range tends to be older. Families usually include adult children and their parents versus young kids. Though children are welcome, there isn't a youth program or babysitting.
READ NEXT: My review of Chichagof Dream Inside Passage Cruise
Cabins: Standard cabins range from 85 to 109 square feet, though a few larger suite categories are available. Cabins on all ships offer either picture windows or portholes, so everyone has an outside view. They are quite small, but are decorated simply and home-like.
Dining: There is just one dining room on these small ships, and a variety of meat, seafood, and vegetarian options made with fresh ingredients – locally sourced if possible – are available. The line emphasizes Alaskan cuisine, and works with local seafood processors for the freshest catch, meaning most of the seafood guests enjoy will have been caught just days prior. After dinner, passengers enjoy rich desserts prepared by the onboard pastry chef.
Amenities: Panoramic lounge for views of the outdoors, with early-riser pastries and pre-dinner appetizers, binoculars in every cabin, onboard bar, library, Alaskan-made bathroom toiletries, and complimentary gear for use while on land, including rain jackets, rain pants, and boots. Each Alaskan Dream Cruise itinerary staffs naturalists and Cultural Heritage Guides who offer educational programs in the lounges.
Best For: Older couples, families with adult children, and those looking for an outdoorsy Alaskan experience that visits more places and is more intimate and personal than a large ship would offer.
Included Alcohol: Wine and beer with dinner.
Gratuities: Additional
Where They Go: Glacier Bay, Inside Passage, Tracy Arm Fjord, Juneau, Sitka, Ketchikan, Misty Fjords, Wrangell, Baranof Island, Frederick Sound, Tenakee Inlet, and more.