On October 12, 2022, the Huna Totem Corporation, an Alaska Native corporation, held the groundbreaking ceremony for an $80 million infrastructure project. The construction will add a second dock in Whittier, at the gateway to Prince William Sound.
Norwegian Cruise Line Holdings formed a partnership with the Alaska Native corporation. The event was intentionally planned to occur on Indigenous Peoples' Day.
According to Huna Totem CEO and President Russell Dick, "The Alaska Native Claims Settlement Act happened over 50 years ago, and when you consider its vision, it was about the opportunity for Alaska Native corporations to work collaboratively with the State of Alaska and municipalities to build economic opportunities for communities, for our shareholders, and for all Alaskans."
The $80 million infrastructure project is extensive. When complete, there will be the additional cruise ship terminal, plus the ability to board the Alaska railroad will remain right at the port. There'll be an expanded motor coach parking facility for passengers' shore excursion departures. The project will also include shops, restaurants and a cultural center.
All three Norwegian Cruise Line Holdings' brands, Norwegian Cruise Line, Oceania, and Regent Seven Sea Cruises, will be able to dock at the new site.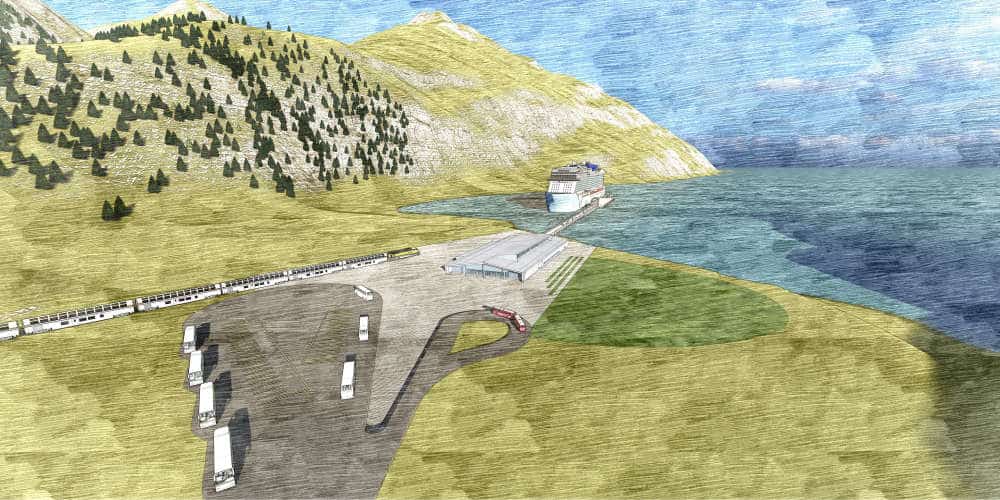 Whittier is a small Alaska town, only 60 miles southeast of Anchorage. The town is located at the entrance to Passage Canal that leads to Prince William Sound and its breathtaking glaciers.
Dave Dickason, Whittier's mayor, introduced the project as "the new future of Whittier."
He also added, "Huna Totem is an Alaska company that understands the values that Alaskans hold, and they've done a good job working to understand the complicated issues that we here in the city of Whittier are trying to overcome. This project is good for the city of Whittier and good for the State of Alaska."
During the ceremony, Norwegian Cruise Line Senior Vice President Juan Kuryla spoke about the long history that NCL has had with Alaska. He also mentioned that Norwegian Cruise Line was the first cruise line to cruise from Seattle to Alaska.
Newly re-elected Alaska Governor Mike Dunleavy had shovel in hand for the groundbreaking event. He commended the partnership with Huna Totem and Whittier for, "having a vision for what they want to be as a community moving forward."
Dunleavy continued, "This $80 million project will create jobs, economic activity, and revenue for the City of Whittier. This is a smart phased development approach, over time it will add housing, hotel rooms, cruise berths, boat launches and harbor infrastructure," he said. "This makes Whittier more than just a destination for our outside guests but also a destination for Alaskans that live in the region year-round."
Whittier has fewer than than 300 year-round residents and is known as the Port That Never Freezes. From the port of Whittier, cruise passengers can head out on glacier tours, kayak adventures and wildlife viewing cruises. And of course board the Alaska Railroad to head as far north as Fairbanks, or spend a few days in magnificent Denali National Park.
When the dock is complete, Norwegian Cruise Line and its three brands will join Princess Cruises and Holland America cruise ships that have been docking at Whittier for many years.
I'm the editor and creator of CruiseMaven.com, a solo traveler cruising the world on waves and wheels, collecting recipes along the way.  I hope my articles and photos entertain, advise and inspire you to travel the world without flying.  Take a breath…stop for a local meal and a glass of wine along the way.