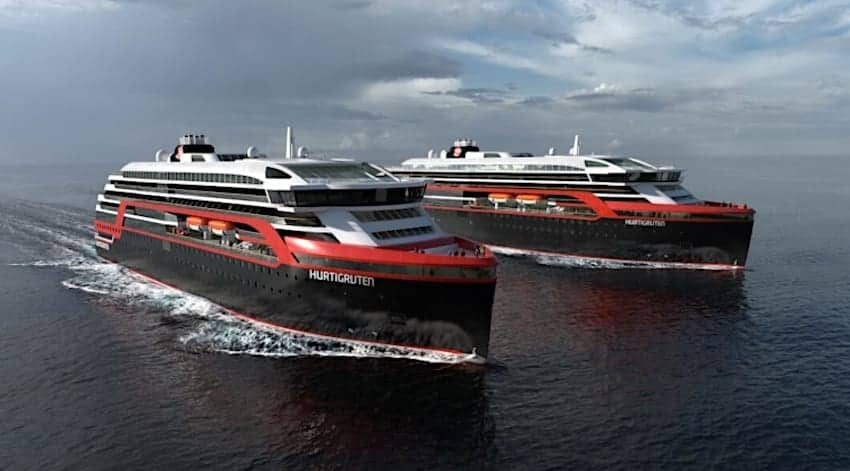 Exploration travel leader, Hurtigruten, is celebrated their 125th anniversary on July 2, 2018. To commemorate the occasion, the Norwegian cruise line hosted a plastic-free birthday party that extended to all ports, destinations, offices and ships. The birthday party stretched over 11,000 nautical miles, from Seattle in the west and Hong Kong in the east to Svalbard in the High North, and along the Norwegian coast.
It was in 1893 that founder Richard With launched the steamer DS Vesteraalen to cruise the coast of Norway as a regular sea link for locals and tourists. Now Hurtigruten travels to over 200 destinations in 30 countries.
"We continue to build on our 125 years of experience and heritage, and we continue to push the boundaries by introducing the world's first hybrid electric-powered cruise ships. We strongly believe Hurtigruten is the perfect fit for the modern-day explorer, and we are experiencing substantial growth across markets. The expansion we've seen so far is just the beginning," said Hurtigruten CEO, Daniel Skjeldam.
Also a leader in environmental protection, Hurtigruten has banned all unnecessary single-use plastics across its fleet of expedition ships, from the Arctic to Antarctica. From straws to drinking cups and plastic bags, everything will be replaced by paper, biodegradable materials and other sustainable alternatives.
"Being a world leader in exploration travel comes with great responsibility for preserving the natural wonders on our itineraries. Plastic pollution is the single biggest threat to our oceans. What better way to tie together our past and future than celebrating our anniversary by removing all unnecessary single-use plastics," said Skjeldam.
Hurtigruten's fleet of 14 purpose-built expedition ships transport adventure travelers to experiences some of the world's most spectacular destinations. With the introduction of the world's first hybrid electric-powered cruise ships – along with the conversion of up to nine existing ships to hybrid LNG-battery powered ships – Hurtigruten also sets a new standard for the future of adventure travel.
I'm the editor and creator of CruiseMaven.com, a solo traveler cruising the world on waves and wheels, collecting recipes along the way.  I hope my articles and photos entertain, advise and inspire you to travel the world without flying.  Take a breath…stop for a local meal and a glass of wine along the way.