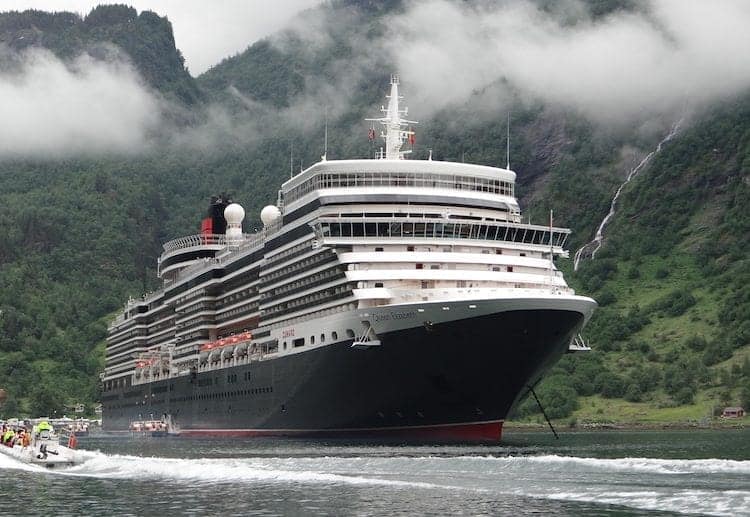 Just announced, Cunard Alaska cruises will take place in mid-spring in 2019. Cunard's Queen Elizabeth will set out on a series of Alaska cruises, that begins when Queen Elizabeth sails from Japan to Alaska and then remains in the region through June.
After the Alaska cruises, the ship will cruise down the West Coast of the United States, through the Panama Canal and onto New York, Iceland and the British Isles.
The itineraries
On May 5, 2019, Queen Elizabeth will sail from Tokyo to Vancouver on a 27-night voyage, crossing the International Date Line to the Alaskan port of Kodiak, home to the Alutiiq people for more than 7,000 years. From Kodiak, the cruise heads to Alaska's capital city of Juneau, passing the pristine Tracy Arm Fjord or Endicott Arm. Next is the quaint town of Skagway and Icy Strait Point followed by Sitka, Ketchikan, Victoria and Vancouver. Early fares begin at $4,409 per person.
Cunard Alaska cruises aboard Queen Elizabeth will offer four 10-night roundtrip Vancouver sailings that depart on May 21, 31, June 10 and 20, 2019. Itineraries will cruise through the Inside Passage as well as full days in ports which include Skagway, Juneau, Ketchikan and the Russian charm of Sitka. Also included are either Tracy Arm Fjord or Endicott Arm, then Icy Strait Point, Hubbard Glacier and Victoria. Launch fares begin at $1,699 per person.
After the four Alaska cruises, from Vancouver, Queen Elizabeth heads southbound to San Francisco and then Los Angeles that includes an overnight in L.A. for the 4th of July. Fares start at $779 per person for these three- or five-night cruises.
You can also book what Cunard calls a full Grand Voyage. After Vancouver and California, Queen Elizabeth continues through the Panama Canal to Ft. Lauderdale, then New York before crossing the Atlantic to Reykjavik, Dublin, Glasgow and finally, London. Grand Voyages can be booked in segment from 21- to 49-nights with launch fares from $3,479 per person.
One addition you might want to consider pre- or post-cruise is from Vancouver on a Rocky Mountain Rail Land Tour with three or five nights' accommodation and two full days aboard the train. If you've never experienced a Rocky Mountain rail trip, the scenery is spectacular as you pass glaciers and snow-capped peaks of the Canadian Rockies. Highlights include the Continental Divide, Kicking Horse Canyon, Spiral Tunnels and the rushing waters of Hell's Gate in the Fraser Canyon.
World Club members can book their cruise beginning October 30, 2017. Reservations open to the public the next day.
Photo: Wikipedia Commons