Ruby Princess offers relaxation and solitude for those who need some downtime.
If the idea of cruising on a ship with 3,000 people seems a bit crowded, you're not alone. Literally. However, with a little bit of planning and creativity, it's possible to find your own little corner of the world aboard Princess Cruises' Ruby Princess.
I recently investigated the entire ship for places where even the most troglodytic passenger could find their bliss. After a bow to stern and top to bottom search, here's what I found.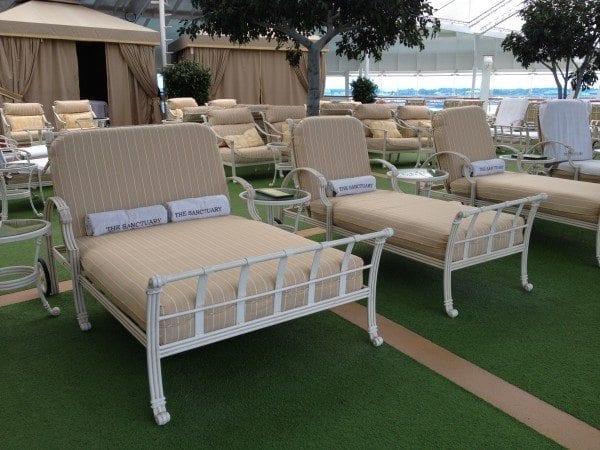 Escape to your own private world at The Sanctuary, the adults-only outdoor hideaway. Purchase a half-day pass for $10 or a full-day for $20. Snacks are available with a $3 service charge. Get a salon massage for one or two people in the shaded cabana.
♥
Located mid-ship on deck 7 (and usually empty) is the library. While there aren't any overstuffed armchairs, it's a dedicated quiet place to read your book or magazine.
♥
Hidden away in plain sight are two dining tables, each one situated on an extended walkway near the Adagio Bar on deck on deck 16. You can bring your meal up here from the buffet on deck 15 and dine al fresco with almost no one nearby.
♥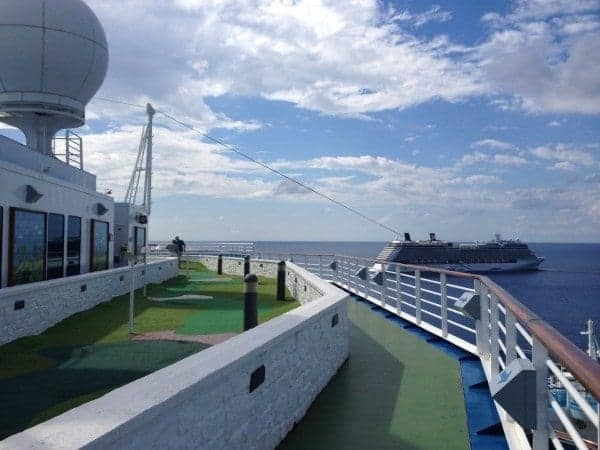 High up on the Sports Deck, deck 19, is the Princess Links 9-hole putt putt golf. Don't want to golf? Talk a leisurely stroll along the path surrounding the golf "course" or simply sit down on one of the few benches on the Sports Deck. There's rarely anyone up here.
♥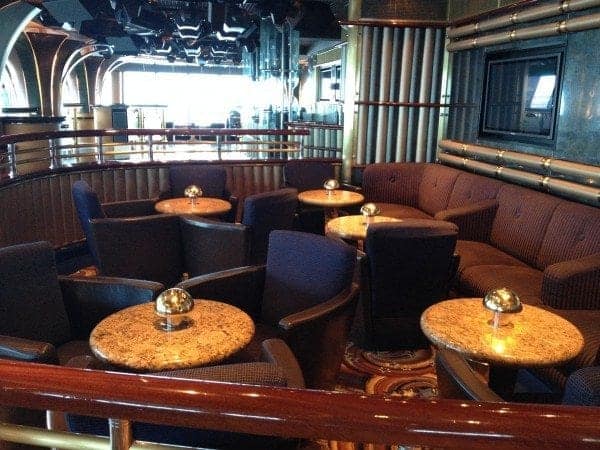 Totally empty by day, Skywalkers Lounge on Deck 18 is a great place to read, relax or just gaze out to sea.
♥
Book a premium balcony stateroom on deck 10 for an amazingly huge balcony. Since Princess Cruises prohibits smoking in staterooms AND on balconies, you can read, daydream or even order a full course, tablecloth dinner on your balcony, without someone's cigar or cigarette smoke ruining the ambiance.
♥
As you can see, it is possible to find your own special place on the Ruby Princess. Sometimes, you only need a little imagination and determination to find your own little hideaway among the masses.
I'm the editor and creator of CruiseMaven.com, a solo traveler cruising the world on waves and wheels, collecting recipes along the way.  I hope my articles and photos entertain, advise and inspire you to travel the world without flying.  Take a breath…stop for a local meal and a glass of wine along the way.