You've planned your river cruise, but you're not sure of how and what to pack for a spring Europe river cruse. Maybe you're curious about springtime weather or formal nights or simply the best way to pack.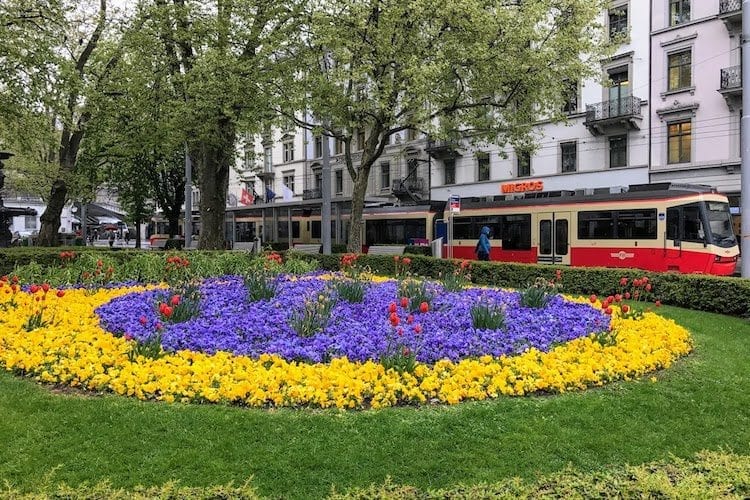 Here are some tips that will help to prepare you for the big event.
Begin With The Right Luggage
If you're still dragging a two-wheeled suitcase behind you, it's time to upgrade your luggage to a four-wheeled spinner suitcase.  It's like a suitcase with power steering.
You don't have to spend a fortune for an American-made Tumi or German-engineered Rimowa set of luggage.  Inexpensive French-made Delsey has some of the most lightweight luggage anywhere, is exceptionally roomy and offered in a variety of colors and models.
Don't buy anything over 22" inches tall, including wheels and handle. That's the max height for airlines overhead storage.  It's also the best height if train travel is on your itinerary.
Luggage that weighs around 10lbs. or less, like Delsey, is ideal.  If the bag or online description doesn't state the weight, you can always find it online at the luggage brand's website.
On European trains, a lightweight 22" suitcase will be easy to hoist into overhead bins, toss quickly onto luggage racks and stash behind back-to-back seating. I always travel with my 19″ -20″ small carry-on (easy access to my laptop) and a 21″ – 22" larger carry-on, instead of a travel tote and an over-sized suitcase that needs to be in checked baggage on planes or Amtrak and tough to lift and maneuver later on.
Packing
Now that you know the type of luggage to get, focus to keep the contents as lightweight as possible. Airline requirements aside, it's never any fun to begin your vacation with a wrenched shoulder or stiff neck.
Whether you're going for 10 days or one month, pack as though you'll only be gone for a week. There's always someplace to do laundry, even if it means paying $25 for a bag of laundry and have the ship do it.  After all, you've spent at least $4,000 per person for this cruise…what's another $25 when you consider the advantages.
A lot of frequent travelers (me, too!) swear by packing cubes.  These can be terrific, especially if you'll be staying at several hotels during your trip. Cubes make it so much easier to find little items like socks and underwear;  just like a toiletry kit helps keep everything for the bathroom together.  Be sure that the lid of the cubes are either transparent or mesh.  It's nearly pointless if you have to unzip each one to see what's inside.
Should you pack an umbrella?  All river ships have umbrellas for their guests to use in port.  Keep in mind, these are not tiny umbrellas and can be cumbersome.  Perhaps pack your own collapsible umbrella just in case you're staying in Europe before or after your cruise.
Depending upon your river ship, cabins may be a bit smaller than a typical ocean cruise ship stateroom.  There'll be ample room under the beds to stash your unpacked bags, but countertop and closet space as well as bathroom vanity space can be limited.  Consider an over-the-door hanging shoe rack. Great for stowing bits of loose items in each shoe compartment and folds flat when it's time to re-pack.
Choosing Your Wardrobe
Weather on a spring Europe river cruise can be unpredictable.  Early spring can bring chilly winds that rush down the river or bright blue cloudless skies to make a walk on the sun deck totally enjoyable.  You just never know.  So it's important to dress in layers.
Some devout early-season river cruisers bring silk undergarments and then layer with thin clothing like cotton tops for women and long-sleeve pullovers for men.  A flannel-lined water-repellent windbreaker or lightweight parka (that you wear from home) plus hat and gloves are a good idea, t too. Be sure to bring one warm scarf to tuck inside your jacket.  Add a few dressier, thin scarves too, for a quick way to change an outfit.
Keep it simple. Unlike on an ocean cruise, there are no formal nights on a river cruise.  The dressiest it gets is the Captain's Farewell Dinner on the last night.  Men sometimes wear a sport coat over a collared shirt or turtleneck T.  Some women opt for a sparkly top and a nice pair of pants…but that's about it.  During the day, it's all about comfort.
Blend in.  Keep your white sneakers, USA-emblazoned baseball caps and neon clothing at home. Europeans dress mostly in dark colors year round.  It's quite common to see both men and women wearing a beautifully-colored scarf to add a bit of color punch to a drab outfit.
Build your cruise wardrobe around one central color scheme, whether brown, black or charcoal. Pieces that you can mix and match will make your life so much easier.  No one will notice if you wear the same outfit twice.
All About Shoes
All European river cruise require some amount of walking, much of which is on cobblestones.
Ancient ruins aren't equipped with elevators. Don't bring your new pair of walking shoes unless you've spent time at home breaking them in for your trip.
Women can leave their high heels at home too.  Generally, three or four pairs of shoes works fine; one good pair of walking shoes – preferable not white, dress-up low-heeled shoes in black, and a pair of black or dark colored flats.  Almost every river cruise line gives passengers  slippers to wear so you can leave yours at home. Boots aren't a weather or fashion necessity on a spring Europe river cruise.
Valuables
Except for wedding rings or something that doesn't scream "steal me", leave the good stuff at home. ALWAYS keep your carry-on bag with you.  If a crew member or someone at the pier offers to help you up the gangway, tag right along side of them.  After all, your carry-on bag has your meds, vitamins, travel documents, makeup etc.  Your passport should either be on you in a hidden pouch or in a deep zippered compartment in your zippered cross-body bag that's worn in front of you.
Electronics
Newer river ships have multiple electric outlets in both 220 and 110 voltage.  USB outlets can be found on the desk as well as bedside on the newest of river ships.  You can also bring along some adaptors if your electric appliances state on the product: 110v – 240v.  Otherwise you will need a converter for older appliances.
If you'll be cruising on a ship that's more than four to five years old, a small lightweight power strip that adapts from USA to Europe would be a good idea if you have a lots of devices to charge.
A nice perk on all river cruises is free wifi.  So yes, you can bring your iPhone, iPad and MacBook and it'll almost feel like home.
If a new camera is on your river cruise shopping list, it's a good idea to take it for a few test runs before leaving home.  Plus, if there's anything wrong with it, you can exchange it at home.  Be sure to buy an extra camera battery or regular batteries.  Also, extra SD cards for your camera.  Don't take a chance of losing all your photos with a non-brand name SD card.
Finally. You're ready to go on a Europe river cruise in spring.
That covers how and what to pack for a European river cruise in Spring.
In a nutshell
Get lightweight, four-wheel spinner luggage
Leave valuable jewelry at home
Pack only enough clothes for one week.
Dress like a European – dark colors to mix and match with pretty scarves
Bring already-broken-in walking shoes
Keep your carry-on bag with you at all times during travel
Disclosure:  There are affiliate links in this article.  If you should happen to click on a link and purchase a product, I will receive a very small commission. These are products that I have purchased and use when I travel.
I'm the editor and creator of CruiseMaven.com and self-appointed "expert" on cruises, trains and solo travel.  By sharing news and reviews plus my cruise and travel experiences, I hope to entertain, inform and inspire you to travel the world without flying.  Be sure to enjoy a local meal and a glass of wine along the way.