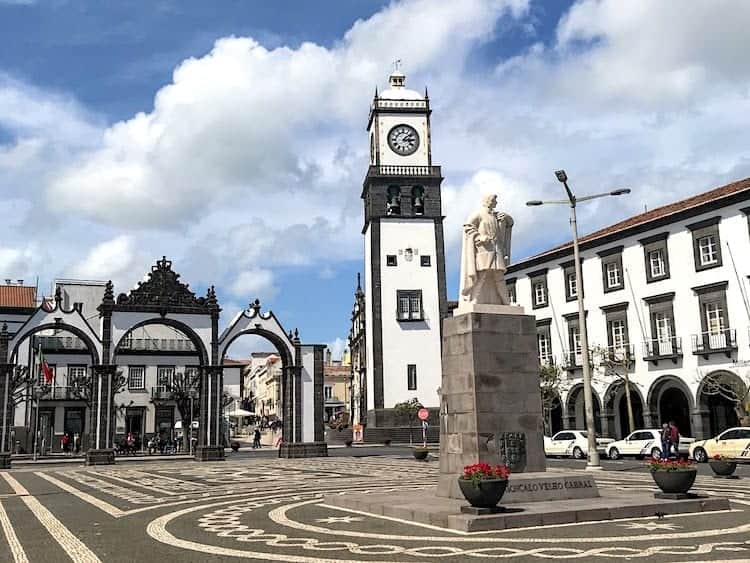 After six rather calm sea days crossing the Atlantic aboard Holland America's Koningsdam, Ponta Delgada was a welcome change.
The Azores are a volcanic chain of islands,  some 850 miles west of Portugal.  And yes, the Azores belong to Portugal.
To be exact:
The archipelago: Azores.  The island: Saõ Miguel.  The main city: Ponta Delgada.  Just slightly confusing.
Until the Portuguese established the first settlement in the Azores in 1439, this chain of nine volcanic islands was uninhabited. By 1444, the island of Saõ Miguel and the city of Ponta Delgada where we docked, was already populated and beginning to grow.  Today, buildings from the 17th and 18th century are still in use.  A walk through Ponta Delgada takes you past old and new buildings.  Lace-like iron decorates the balconies of buildings painted white, while black trim outlines the windows, doors and archways.
Finding a photo of the day for this day wasn't easy.  Once you head out of Ponta Delgada, the beauty and scenic diversity of Saõ Miguel is positively unique.  So I've shared a few more photos taken on shore excursions.  One photo of this island doesn't do it justice.
Since I've been here before, I sort of know my way around from the port to the downtown city center.  I've experienced shore excursions here and I'm not a big fan of white-knuckle rides on a motor coach as it traverses mountainous switchbacks. Do I make myself clear?
One of my less nerve-wracking tours was a trip to the equivalent of Jurassic Park but without the dinosaurs.  It's Furnas Lake and Furnas Hot Springs, comprised of 22 thermal springs. These springs are so hot that the water coming out of the earth is boiling hot.  As it reaches the surface,  zillions of bubbles pop and sputter from each puddle or pond.  Watch your step for sure.  It's one of the richest hydrological areas in Europe.  
See Related: You must read this!  My Favorite Things to Do In Ponta Delgada
Back in the town, there are restaurants, museums, cathedrals and a beautiful, wide promenade that hugs the waterfront.  I'll have more photos that I've taken throughout the island, so bookmark this article and check back soon.
Next up, another two days at sea until we finally reach Spain and the European continent.  Bye Azores!
I'm the editor and creator of CruiseMaven.com and self-appointed "expert" on cruises, trains and solo travel.  By sharing news and reviews plus my cruise and travel experiences, I hope to entertain, inform and inspire you to travel the world without flying.  Be sure to enjoy a local meal and a glass of wine along the way.