It has been nearly eight years since I sailed aboard the Norwegian Sun.  As the Sun was my only "bus" to Europe to enable me to catch my river cruise connections, I had no choice.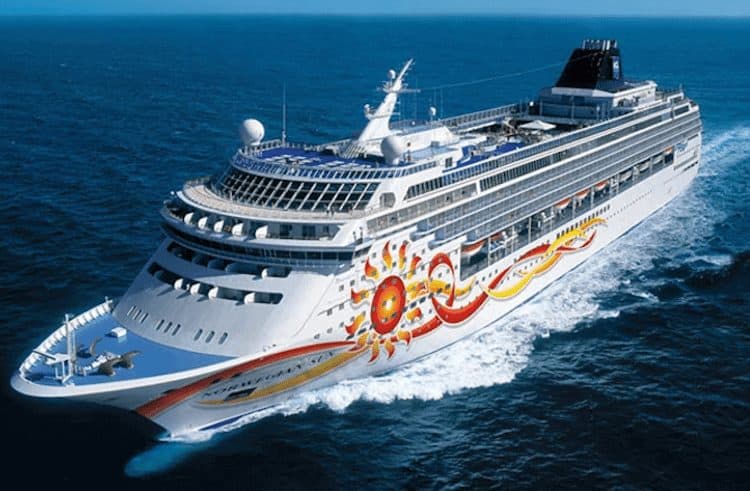 How fortuitous it was that the Sun would arrive in Amsterdam the same day that my river cruise aboard AmaWaterways' AmaLegro was scheduled to depart from Luxembourg.  A couple of trains away from Amsterdam and I'd be on my way to Budapest.  While no one wants to spend two long weeks aboard a ship that's mediocre at best, it wasn't my priority.  Whatever condition the ship was in didn't matter so long as it brought me to Amsterdam.
My concerns were for naught. From the moment I stepped onboard, any concerns or preconceived fears were left in the cruise terminal.  All bright, clean and shiny after a stint in refurbishment only a few months before, the Sun was ready for her European summer season.
While other cruise lines boast of a perfect 100% sanitation score by the CDC, I have photos of dirty mops, buckets of grey water and sanitizing solution and spray cleansers left on the dining table in the buffet area.  Not so on the NCL Sun.
Rosita Schandy, the hotel director, informed me that the Sun had also recently received a 100% sanitation score.  Try as I might, I couldn't find one cautionary cleaning product anywhere near food or dining areas.  Norwegian Cruise Lines has always been ahead of the pack when it comes to keeping their ships clean and sanitary.  The Sun was a clear example.
My first Norwegian Cruise Line experience was in 1978 aboard the Sunward II.  I wasn't as finicky as I am now, but even then I remember thinking how clean that ship appeared.
Unlike many new ships' atriums that have little to no sunlight, the Sun lives up to her name.  With a glass-ceiling twelve story circular atrium and three levels of glassed public space on the first three decks of the atrium, there is a feeling of openness and light.  The furnishings are both muted and colorful but never dreary or dark.  Except for the Windjammer Bar with its typical nautical teak and dark upholsteries, the overall ambience is bright and cheery.
Dinner time is different on this Freestyle ship.  NCL originated the open dining concept years ago and it's now available on nearly every other cruise line.  The advantages are many; no rushing back from a late afternoon shore excursion or going to sleep totally stuffed from finishing dinner at 10:30PM.  As they say at NCL, "you're free to…whatever."
On this ship, there are two main dining rooms; the Seven Seas and the Four Seasons.  For solo travelers, you can request a table for yourself or to be seated with others at a large table. For my first night, the Seven Seas was my choice.  I requested a small table by myself to try to catch up on paperwork and email.  I was seated by the window, getting a beautiful view of the sunset.
Dinner did not disappoint.  I skipped a starter and went straight for the mixed green salad.  The assortment of arugula, spinach and endive were mixed with candied walnuts and crumbled Roquefort cheese then lightly tossed in Sherry vinegar and olive oil. Lettuce should not be floating in a swimming pool of salad dressing at the bottom of plate and this did not.
It was tough to decide on the entrée, so I asked for a small sampling of one of them.  My main dish was baked Mahi served on a bed of sun-dried tomato polenta, braised fennel and topped with a chive butter sauce.  The second, mini-portion was a vegetable curry w/Basmati rice, mango chutney and crunchy pappadam nestled on top.
My waiter suggested the warm vanilla bean soufflé with Grand Marnier sauce for dessert. Who am I to refuse?
The first night's dinner in the main dining room delivered as hoped.  Only thirteen more dinners remained.  I hope there's a treadmill with my name on it in the gym.  If not, the NCL Sun is one of the few ships sailing today with a complete, one-deck wraparound walking/jogging track.  One way or the other, I'm determined to enjoy the food and not gain any weight on this transatlantic crossing.
The first full sea day quickly drew to a close.  Since we turned the clocks ahead one hour the night before, I chose to head back to my room after dinner and try to get to sleep relatively early.  In another day, we'd be setting the clocks ahead one hour every evening until we arrived in the Azores, seven days after leaving Port Canaveral.
I'm the editor and creator of CruiseMaven.com, a solo traveler cruising the world on waves and wheels, collecting recipes along the way.  I hope my articles and photos entertain, advise and inspire you to travel the world without flying.  Take a breath…stop for a local meal and a glass of wine along the way.