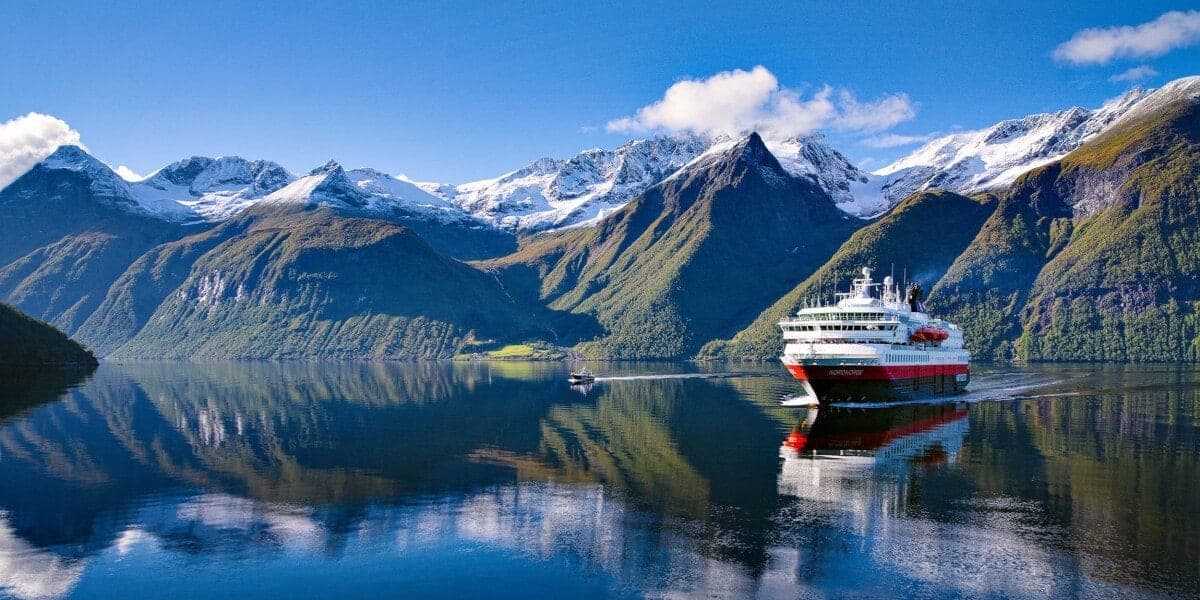 If you're ready to plan your Antarctica expedition cruise for 2019, Hurtigruten is offering complimentary roundtrip air.  But time to reserve your space is limited.  The free air offer is only good until July 31, 2018.
Who is Hurtigruten?
Hurtigruten, a Norwegian-based expedition cruise company, has been around since 1893.  Since then, Hurtigruten has become a world leader in exploration travel with 14 ships exploring the world at any given time.  Two more ships are on order, the MS Roald Amundsen and MS Fridtjof Nansen, and scheduled to launch in 2019 and 2020, respectively.  They will be the most advanced and environmentally friendly expedition vessels at sea, as well as the world's first hybrid electric-powered cruise ships.
See next:  Sneak peak at Hurtigruten's two new expedition cruise ships
To give a boost for select 2019 expedition cruises, taking advantage of Hurtigruten's free roundtrip air is a great way to experience an expedition cruise and visit Antarctica.   This promotion is available but only for a limited time.  Some of the places visited on the expedition cruises include the Falkland Islands, Chilean Fjords, Patagonia, and more.
Expedition cruises in conjunction with the complimentary roundtrip air include:
Antarctica and Falklands – Southern Hemisphere Adventure
Departs October 26 aboard MS Midnatsol
Patagonia, Chilean Fjords & Antarctica – Voyage of Discovery
Departs October 26 aboard MS Roald Amundsen
Antarctica – Highlights of the Frozen Continent
Departs November 10, 21 and December 2, 28 aboard MS Midnatsol
Chilean Fjords, Antarctica & Falklands – Great Explorers and Wildlife
Departs November 11, 27 and December 26 aboard MS Roald Amundsen
Antarctica – Christmas on the White Continent
Departs December 13 aboard MS Midnatsol
Chilean Fjords and Antarctica – White Christmas Adventure
Departs December 13 aboard MS Roald Amundsen
Where to begin?
For information about this free roundtrip air offer, visit here:  Hurtigruten
Source:  Hurtigruten
I'm the editor and creator of CruiseMaven.com and self-appointed "expert" on cruises, trains and solo travel.  By sharing news and reviews plus my cruise and travel experiences, I hope to entertain, inform and inspire you to travel the world without flying.  Be sure to enjoy a local meal and a glass of wine along the way.