Thought about traveling with your pet on an Amtrak train trip because you didn't want to leave your dog or cat at home?
If you're wondering if Amtrak lets you bring your pet on the train, the answer is Yes! Pets are welcome on nearly all Amtrak trains.
This article details the Amtrak pet policy for what you need to do and know to travel with your dog or cat on the train.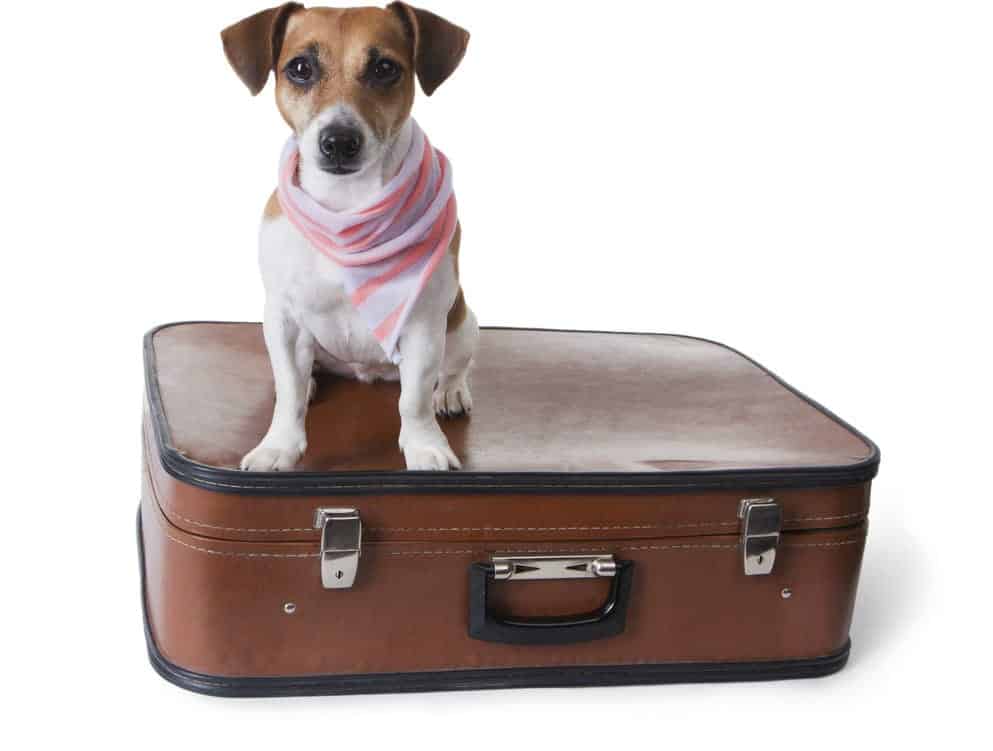 How to Travel With a Dog or Cat on Amtrak
Keep in mind only dogs and cats are allowed on Amtrak. If you really want to see America up-close, from rugged seashores to snow-capped mountains and ruby red canyons, simply bring your pet with you on Amtrak!
You must follow the Amtrak pet policy restrictions when you plan your train trip.
Recently, Amtrak revised and expanded their pet policy, so here's all the updated information.
Amtrak's Pet Policy comes with a list of rules and restrictions you must follow to bring your dog or cat on Amtrak. And yes, your pet stays with you the entire time you're on the train.
And here's the best thing: Amtrak can take you and your small pet almost anywhere. There's plenty of fresh air, and some peace of mind knowing the coach car has been deep cleaned and sanitized.
READ NEXT: Amtrak Coach Seats Travel Tips and Advice
While many airlines ban brachycephalic pups (Shih Tzu, Boston Terriers, Pekingese, pugs etc,) from flying with you, there's no rule against these breeds traveling on Amtrak, as long as they fit the size rules.
Once again, you just need to know and follow Amtrak's Pet Policy as you would for any small breed.
Unlike air travel, on Amtrak there's no need to worry about your pet being cold or pressurization issues. You won't have to lug a pet carrier miles across an airport's terminal desert.
And not to stress over these concerns as you rocket through the sky, is PRICELESS.
What is the Amtrak Pet Policy?
Even though it might sound simple enough to put your dog in an approved carrier and board the train with you, there still are rules to follow to bring your dog on Amtrak.
These range from choosing your train, the length of the trip, making the reservation, having the proper paperwork. And your dog's temperament. And there are a handful of Amtrak trains that don't permit you to travel with your pet.
There's even a pet release waiver you'll have to sign when you check-in at the train station.
RELATED: How to Travel with Your Pet Aboard Queen Mary 2
Amtrak Pet Restrictions
Most important, only small pets of no more than 20 pounds are permitted. This includes the weight of the pet carrier, too.
You can use either hard or soft-sided carriers. So technically, your pet needs to be less than 20 pounds plus the light-weight carrier.
If this works for you and your dog or cat, then here is the list of restrictions of what you can and cannot do with your pet on Amtrak.
Train travel duration can be no more than a total of seven travel hours. This includes same-day transfer time if you've booked multiple segment trains.
Only one pet per human is permitted.
Pets are allowed only in Coach Class. Only on weekends in Acela Business Class.
Dogs and cats are not allowed in Amtrak Sleeper cars, non-Acela Business Class, any Business Class or First Class or in food service cars.
Pets cannot be booked with multi-ride tickets like a rail pass, on travel on dedicated Thruway Connection Services or with an unaccompanied minor.
New: Your dog or cat cannot travel on Amtrak into Canada aboard Adirondack, Maple Leaf and the west coast Amtrak Cascades.
Pets are not allowed to travel with you on the Auto Train (no stops), Keystone Service, Pennsylvanian, California's San Joaquins, Capitol Corridor and Pacific Surfliner.
Dedicated Coach Cars for Pets
While almost all trains will allow you to bring your pet, there are a handful of Amtrak routes with a designated Coach car for pets.
These train routes include Amtrak Cascades, Carl Sandburg, Illinois Zephyr, Illini, Lincoln Service, Saluki, Pere Marquette, Wolverine, Blue Water, Hiawatha and Missouri River Runner.
What are the Approved Dog Carriers?
You provide the pet carrier. It may be hard or soft sided but has to be leak-proof and well ventilated.
Maximum combined weight of pet and the carrier is 20 pounds. Know the weight of the carrier before you buy it.
Carrier size: At maximum, pet carrier size can be 19″ long x 14″ wide x 10.5″ high.
Your pet must be able to sit and lie down comfortably, without touching the sides of the carrier.
The pet carrier is considered one piece of carry-on baggage.
Before You Board the Train
One feature that makes train travel with your pet easy is the Amtrak check-in process. You need to arrive at the station only 30-minutes prior to departure. If you have luggage to check, arrive about 45-minutes early.
It's also a good idea to take your dog to a nearby designated area for one last pee-pee before boarding the train. Many larger stations have a doggy relief station. Just ask an Amtrak employee, if you don't see it.
You will need to read and sign the Pet Release and Indemnification Agreement for each travel segment.
Check in at staffed stations no later than 30 minutes before departure for time to complete the pet release paperwork.
If boarding at unstaffed stations, the conductor will confirm pet eligibility and provide you with the document to sign.
Rules Onboard the Train with Your Pet
Your pet should remain inside the carrier when in stations and onboard trains.
Since your pet must remain with you at all times and you can't leave them alone, either bring your own beverages and snacks. Maybe someone will go to the café car or dining car for you.
Your pet carrier must be placed under your seat and not under the seat in front of you. Aboard Amtrak Cascades trains you may set your pet carrier on the floor in front of the seat next to you.
In the event of a service disruption, Amtrak will try to find, but doesn't guarantee, a pet-friendly hotel, if necessary.
How to Make a Train Reservation for You and Your Pet
Since Amtrak allows only five pets per train, not counting service animals, it's important to book early. You may book your reservation over the phone (1-800-USA-RAIL) or at a staffed station. You can also choose to book your and your pet's reservation online.
Just follow the steps on Amtrak.com homepage to start the booking process. Type in where you want to go, one-way or round-trip, the dates of travel and press "Find Trains."
From there, choose your train and coach seat, continue and proceed to enter your personal information. Once that's completed, you'll have the option to "Customize Your Trip":
What Does It Cost to Bring Your Pet on Amtrak?
Traveling with your dog on Amtrak is a lot less expensive that on an airplane. Airlines charge from $65 to over $100 to have your pet in the cabin with you. IF they let your pet in the cabin anymore.
As you can see, the pet charge to travel on Amtrak is a meager $26.00. If you happen to have Amtrak loyalty points, it'll use up only 800 of your Amtrak Guest Reward points.
What Train Routes Allow Pets?
EAST
Capital Limited
Carolinian
Cardinal
Crescent
Lake Shore Limited
Piedmont
Palmetto
Silver Star
Silver Meteor
WEST
Amtrak Cascades (excluding Canada)
California Zephyr
Southwest Chief
Sunset Limited
Texas Eagle
MIDWEST
California Zephyr
Capitol Limited
Cardinal
City of New Orleans
Empire Builder
Hiawatha
Carl Sandburg
Illinois Zephyr
Illini
Saluki
Pere Marquette
Wolverine
Blue Water
Lake Shore Limited
Missouri River Runner
Southwest Chief
Texas Eagle
NORTHEAST
Acela Express (Weekends and holidays)
Adirondack (Excluding Canada)
Downeaster
Empire Service (Excluding Canada)
Ethan Allen Express
Maple Leaf (excluding Canada)
Northeast Regional
Vermonter (Washington – Springfield)
Five Reasons to "Pawsitively" Ride Amtrak With Your Pet
Safety! Your pet is with you the entire journey, no ESA paperwork necessary. No fears that your best friend is down below anxious and shivering in a plane.
High ride-enjoyability factor. With peace of mind that Fido is with you, sit back, and enjoy a drink and a snack.
Compare cost: Air travel with a pet runs about $150. Amtrak pet fee is only $26. This is about what you'd pay for a veggie burger and a beer in Chicago. For the same price as a bean patty and a PBR you get to travel almost anywhere with your furry family member. Can't beat that.
Potty breaks! Yes, there are "relief" areas at many stations where the train has a scheduled "fresh air break." Small dogs may not always need miles to roam, but a small bladder is a small bladder.
Time to relax. Yes, rail travel takes longer. Where's the rush?
How to Travel Across America on Amtrak with Your Pet
Remember Amtrak's seven-hour restriction for continuous travel with a pet? If you want to go from say, Chicago to Los Angeles, you're not entirely out of luck.
Even though the Amtrak pet policy only allows for a seven-hour maximum route, there is a workaround.
Here's how to do it. You have to work smart and break the trip down into seven hours or less segments. And there needs to be a pet-friendly hotel near the train station.
Want to travel with your pet from Chicago to Los Angeles aboard the California Zephyr? It's complicated so stay with me here. Remember, too, you're traveling in Coach Class. No pets (except service animals) are allowed in sleepers.
For example, you and your dog could board the California Zephyr in Chicago at 2pm. Ride for about 3.5 hours until you cross the Mississippi River at Burlington, Iowa at 5:25pm.
You'll spend the night at a nearby pet-friendly hotel. Be sure to request a late check out at the hotel because you'll board another California Zephyr the next day at 5:25pm.
Ride for another 6.5 hours to Omaha, Nebraska, arriving at 10:55pm where you'll overnight again. You will need two hotel nights because of the late-night departure. Plan on exploring Omaha for a day.
Re-board the next California Zephyr at 10:55pm (day 3) and ride overnight until 5am when your train arrives into Ft. Morgan, Colorado. And so on. Wash, rinse, repeat.
Yes, this sounds like a royal pain but if you want to travel cross-country on Amtrak with your small dog or cat, this is the only way to do it. You also must book each segment separately. This means a new ticket for each train ride. If you're like me, it will take several phone calls to Amtrak to do all of this.
While the Amtrak pet policy isn't conducive for a cross-country train trip, the main intention of this program is really for shorter distances. If you only have to spend one night in a hotel and take only one more train, that's not bad at all.
Forget Flying and Bring Your Pet on Amtrak
Airlines have changed their rules for bringing your pet into the cabin. New rules ban Emotional Support Dogs in the cabins of almost all airlines.
Rather than have to stow your four-legged family member in cargo, bring your pet on the train with you. It's easy, it's cheap, and you'll both love the ride.
And now you know how to travel with your pet on Amtrak!
Feeling Inspired? More Amtrak to Read!
Please Pin to Your Favorite Boards!
Jamie lives and works in Jacksonville, Florida. While her day job keeps her busy managing digital customer experience strategies for global brands, her passion is writing and finding new, eco-friendly ways to see the world. You can find her chatting about marketing, eco-tourism, and adventurous travels on Twitter @jamieckennedy.