Sometimes it's the chance meetings that you most treasure.
It was a serendipitous Twitter moment. A tweet from someone called Argyll Cruising in Scotland passed through my news feed. How it ended up in there I don't know.
Argyll Cruising was the Twitter name, accompanied by an impressive seaside image of Scotland. I clicked "follow". My usual due diligence ensued; I needed to know who and what was this new, one boat Scottish cruise line.
I sent a tweet to Jamie at Argyll Cruising simply to say "hi" and congrats on his family's new endeavour. Within minutes, Jamie Duncan tweeted back. A new transatlantic friendship had begun. I was invited to cruise aboard the Splendour.
On a side note, the Outlander TV series Season 1 was in full swing. If you don't know about Outlander and Scotland, it's the equivalent of GOT and Dubrovnik. Sort of a fantasy place but real. Suddenly, I was propelled into the Scottish Highlands, not to meet Jamie Frasier, but instead, Jamie Duncan.
Argyll Cruising and the Splendour
Once upon a time, Iain Duncan, an professional engineer, skipper and all-around skilled craftsman, had a vision of running his own cruise line. It soon came to pass that Iain and his wife Fiona, along with their son Jamie, made a family decision. They would throw caution to the wind, purchase a former fishing trawler, and convert it into a full-blown, beautifully refurbished cruising vessel.
In April 2015, Argyll Cruising became a reality as the Splendour's trademark gleaming black hull set out from Holy Loch Marina on its inaugural season. Destination: a cruise along Scotland's breathtaking, rugged coastline and the shores of Arran, Great Cumbrae and through the Kyles of Bute.
Magical Dunoon, Scotland
Timing was nearly perfect for me to pay a visit to the Duncans. Nearly perfect because I'd arrive in Scotland the day that the "Harry Potter" steam engine train made its last excursion of the season. Touted as one of the top scenic train rides in the world, it was on my bucket list, but would have to wait until next time. The "perfect" segment would be a four-night cruise with Argyll Cruising. Or so I thought when I set out for Scotland a week earlier.
Two days before I arrived, an email arrived and Jamie regretfully told me that the Splendour's gearbox had broken and my cruise, a special end-of-the-season sailing, was cancelled. The Duncans had arranged for me to spend the next four nights on land at Douglas Park Bed & Breakfast.
How I finally reached Dunoon, Scotland is fodder for another story. After two trains and one ferry boat affectionately called The Bathtub by the locals, I made my way from the ferry dock to a little coffee kiosk to wait for my taxi. My late October arrival into Dunoon greeted me with blustery winds, skies that changed from menacing gray to brilliant blue in a matter of minutes and a sea with a mind of its own.
Undaunted, the summoned taxi arrived to take me to Douglas Park Bed & Breakfast, where I'd now spend four nights due to the canceled cruise. The next morning, Jamie Duncan himself appeared at the doorway. After a handshake and a hug, we were off to see the Splendour.
As Jamie's car left the paved road for the gravel path to the marina, Jamie proudly pointed out the Splendour. There she sat, docked at the end of the pier, looking as though we were supposed to untie, cast off and head out to sea any minute. Not this time.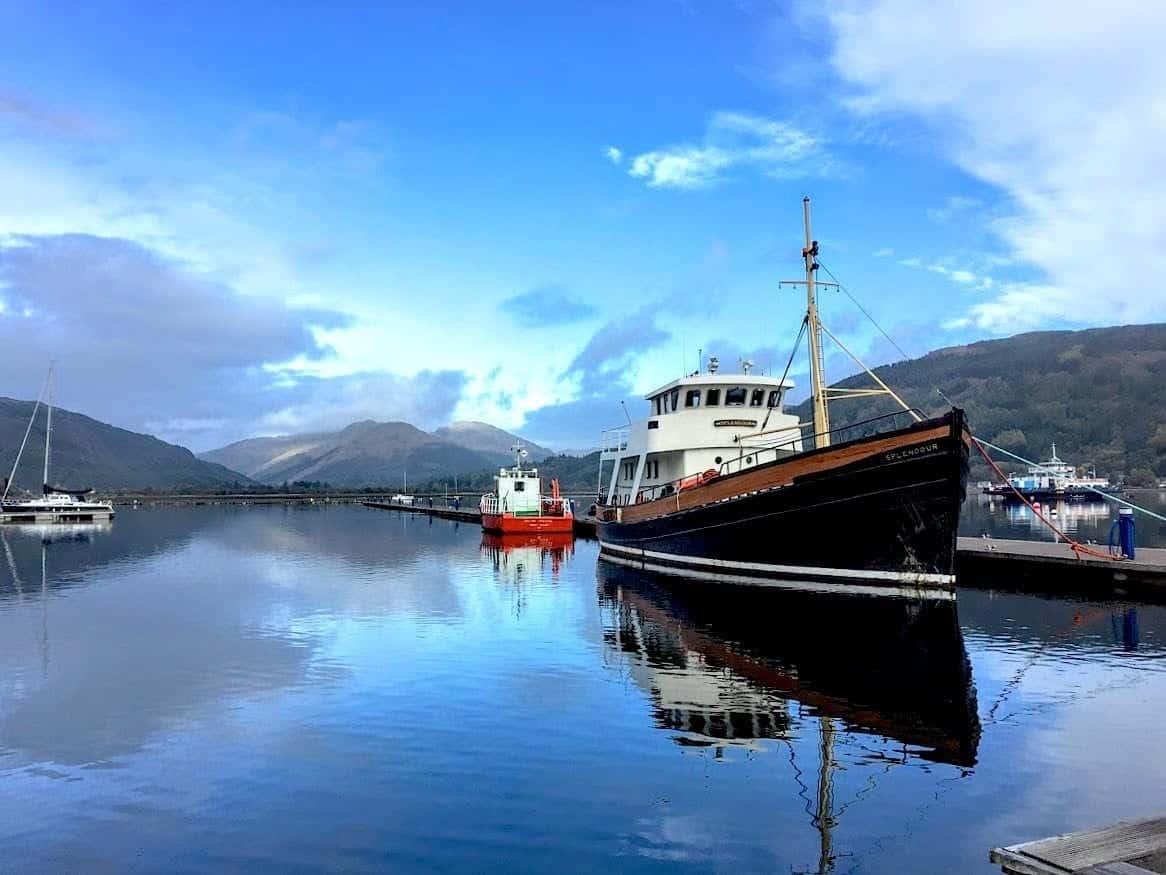 Iain Duncan sprinted down the gangway and I immediately sensed his regret at our not leaving port. I was invited onboard to have a look around, but told to be careful as the gearbox removal required quite a bit of maneuvering to offload it and boards were out of kilter.
Aboard the Splendour – that was then…
With the boat "out of the water," the gearbox removed, it was time for more remodeling and refurbishment.
To me, the ship looked lovely as it was. But it was the consensus that each cabin should have an en suite facility. Presently, only the Deluxe Suite had its own bathroom. And one room had two beautiful bunk beds.
It was a short visit aboard the Splendour. Repairs, refurbishment and remodeling were in full swing within hours of the gearbox removal. But…Skipper Iain graciously invited me to return in 48-hours for a meal befitting a Scottish Gathering.
Stuck with an old lady.
Poor Jamie. Because my cruise had been cancelled, he was duly appointed to be my 2-day tour guide to this incredible bit of Scotland. I hope I didn't bore him beyond human capacity.
For me, it was a time to get to know a part of the world that I had dreamed about visiting, ever since I picked up the first Outlander novel 15 years prior. We toured for hours each day, visiting by car some of the shoreside experiences that the Splendour would have enabled us to reach by sea.
And a gala dinner.
At 7PM on my last night in Dunoon, the entire Duncan family picked me up at Douglas Park for the short drive to the marina. Their promised gala dinner was actually going to happen. Remember, only two days before, the Splendour was in the midst of what would turn out to be a complete refurbishment for 2016.
Iain Duncan had gone so far as to contact the Splendour's Chef Mike to make a special dinner just for us. It was as if I had stepped through standing stones and poof! landed right in the middle of a Scottish banquet.
This dinner was to be the most memorable of my two months in the UK and Europe. Four uniquely prepared courses, including just-caught fish, plus two excellent red and white wines and I was under the spell of the Splendour. Locally-sourced ingredients, not to mention smooth-as-silk single malt Scotch are standard aboard the Splendour.
As the evening drew to a close, I knew that this was a chance meeting beyond expectations. All because of Twitter. Plans were made for a future visit to experience the Splendour in action. It was then that Jamie revealed a new plan: the Splendour would undergo yet another refurbishment this winter.
By April 2016, each cabin would be outfitted with its own en suite bathroom. Somehow, Iain and Jamie had figured out a way to enlarge each of the four cabins to accommodate a bathroom. All of the work would be done by Iain himself with Jamie's help.
Sure enough. Just in time for the first cruise of this season, the Splendour's makeover is complete.
New! ⇒Photos of the Splendour⇐ and the beautiful new en suite accommodations.
Because the Splendour accommodates a maximum of eight guests, several 2016 summer sailings are sold out. Don't worry…the Splendour sails the Scottish waters through October.
Contact Argyll Cruises for more information. And follow them on Twitter…like I did!
PIN THIS AND SAVE!

I'm the editor and creator of CruiseMaven.com, a solo traveler cruising the world on waves and wheels, collecting recipes along the way.  I hope my articles and photos entertain, advise and inspire you to travel the world without flying.  Take a breath…stop for a local meal and a glass of wine along the way.