It's been a busy cruise news week, and still not much is good news. Some cruise lines are anxious to resume cruising and following the money. Though they think they're following safety protocols, apparently it isn't effective enough.
Muster drills are about to change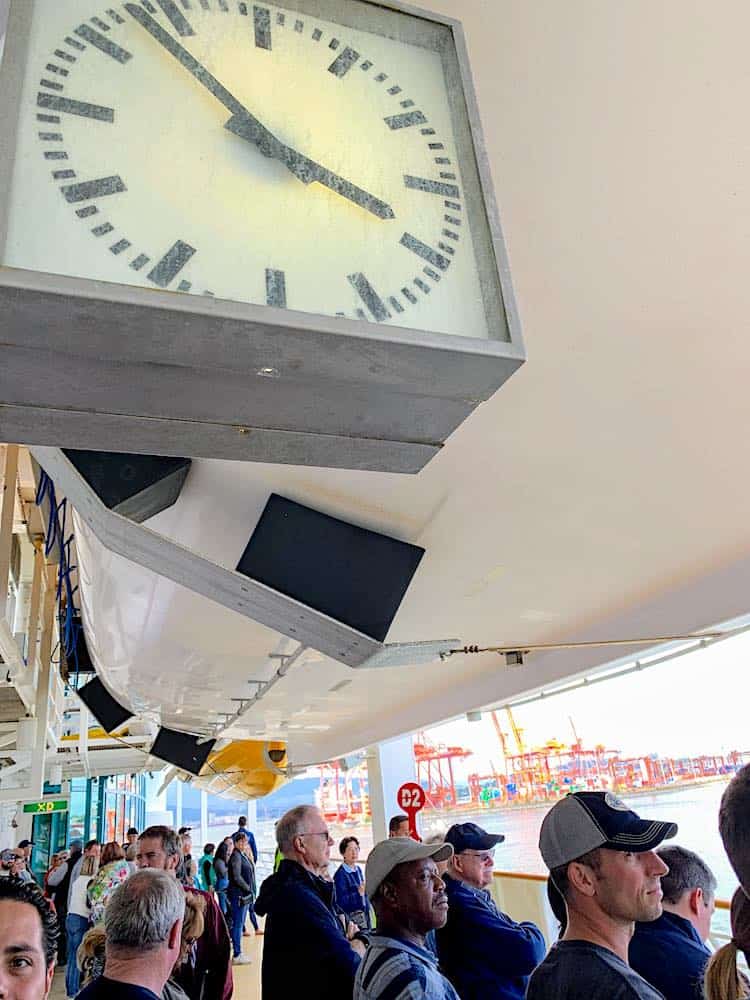 Highlights: Muster 2.0, Extended Cruise Suspension, Masks and Rapid Tests, Bye-Bye Cunard?
No Cruises until November According to CLIA
On Wednesday morning, the Cruise Lines International Association announced that their member cruise lines have suspended all cruise departures through the month of October. This includes the big three that sail from U.S. ports: Royal Caribbean Group, Carnival Corporation and Norwegian Cruise Line Holdings. Also on the list for North America departures is MSC Cruises.
READ MORE: Cruise Cancellations Continue through October
CLIA addressed the possibility that if conditions in the U.S. should improve, it might be possible to resume cruises sooner if the lines would consider shorter and modified sailings.
We should note that four cruise lines that aggressively pursued an early restart have been forced to either discontinue for the rest of the year or adopt a wait and see attitude. These include UnCruise Adventures in Alaska, Hurtigruten's Roald Amundsen in Norway, SeaDream Yacht Club's SeaDream I also cruising in Norway as well as Paul Gauguin in the South Pacific.
Strange Bedfellows Team Up for Safety
Royal Caribbean Group and Norwegian Cruise Line now have a new way to conduct a muster drill. It's called Muster 2.0. This was developed in joint partnership between Royal Caribbean Group and Norwegian Cruise Line and their newly-formed Healthy Sail panel of experts.
Muster 2.0 uses a new technology, called eMuster, that guests can access on their mobile devices or stateroom TVs. The virtual drill will be completed individually rather than in a packed-like-sardines formation on deck or in lounges.
No more hiding in your stateroom bathroom or pretending to be asleep. Instead, before the ship leaves the port, you are required to review the information and complete the steps needed. Available on your mobile device or TV screen, there will be information on how to properly put on and use a life jacket. It will also tell you where to go in case of emergency. Basically, you can get a head start on your cruise and simply sip your sailaway cocktail while reviewing your eMuster procedure.
Once you've reviewed the safety information, you'll need to visit your assigned muster assembly station. Where a crew member will double-check that you've completed and answered all the questions. All of these steps must be completed before the ship can sail as required by international maritime law.
Muster 2.0 Had A Test Run Back in January 2020. It was first tested on Royal Caribbean's Symphony of the Seas. While not the actual muster drill, guests participated in a futuristic eMuster drill. Royal Caribbean's survey showed "better comprehension and retention of the safety information."
READ MORE: Opinion: What the Future of Cruising Could Look Like in 2021
First Alaska Cruise of the Season Forced to Return to Port
UnCruise Adventures' Wilderness Adventurer set out from Juneau on Saturday, August 1, for a seven-night no-port visit cruise. With only 36 passengers and 30 crew, it only took one guest to receive a positive result from a coronavirus test taken at the Juneau airport.
Mid-way through the cruise, called the Glacier Bay National Park Adventure, the ship returned to Juneau.
READ MORE: First Alaska cruise of 2020 returns early to port
MSC Cruises outlines ways they'll try to keep passengers and crew safe
MSC Cruises hopes to offer Mediterranean cruises sometime in late summer aboard MSC Grandiosa and MSC Magnifica.
The cruise line plans to operate seven-night cruises with MSC Grandiosa in the Western Med and send MSC Magnifica to cruise the Eastern Mediterranean.
MSC Cruises announced an array of health and safety plans to implement aboard these two ships. These measures would begin at check-in and include a quick-result swab test, temperature check and a health questionnaire.Social distancing and/or mask wearing will be needed in more crowded areas of the ship and daily temperature checks will be offered.
In port, no one will be allowed to wander on their own and will be required to use only MSC-sponsored shore excursions. Youth programs will run at limited capacity.
Buffets will be plated by staff and restaurant ordering will be done on passengers' smart phones.
Departure dates and itineraries are still undetermined. Only European passengers from any of the 26 Schengen countries will be allowed to board.
Is Carnival Corp Selling Their Two Luxury Brands?
It didn't take long for Carnival Corporation to deny the rumor that it would be selling two of their premium to luxury cruise lines.
Only one day after the cruise line revealed the name of two additional ships that they planned to sell (for a growing total of 15), the rumor launched that Cunard and Seabourn would be sold.
The rumor mill was buzzing that because these two lines attracted an older and well-heeled clientele, their passengers were more apt to cancel for health concerns once cruising resumed. The biggest revenue makers are of course the 5,000+ newest ships with all the bells and whistles.
That's it for this week's cruise news wrap-up.
I'm the editor and creator of CruiseMaven.com, a solo traveler cruising the world on waves and wheels, collecting recipes along the way.  I hope my articles and photos entertain, advise and inspire you to travel the world without flying.  Take a breath…stop for a local meal and a glass of wine along the way.