Chances are…you're here because you're serious about trying a river cruise. There are so many choices out there that it's not always an easy decision to make. Yes, river cruising is the hottest trend in the travel industry. And there are many reasons why to choose a river cruise.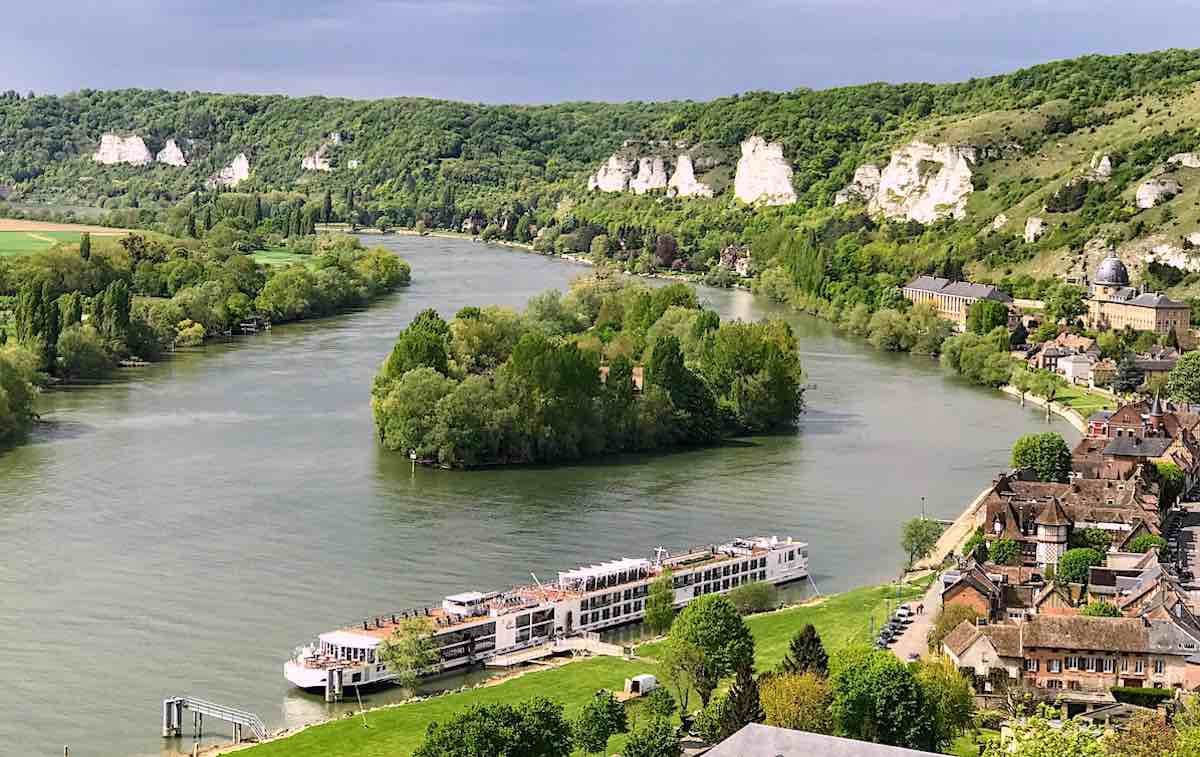 It's a good bet that you're thinking about taking a river cruise because someone you know just returned and raved about it or you've seen endless television ads or PBS shows about the joys of river cruising in Europe. Whether you choose a river cruise in North America, Europe, Asia or Africa, a river cruise is a big ticket vacation. It pays to do some investigating.
What to Expect on a River Cruise Vacation
Here are answers to basic questions that most first-time river cruisers want to know to help choose a river cruise experience. Experienced river cruisers can find a trove of information on this site to help plan their next river cruise. Because once you go, the river cruise experience becomes addictive.
1. Big ship vs. little ship
Most European river ships have four decks that includes an expansive sun deck. Any higher and the ships wouldn't squeeze underneath the low bridges along their path. Too wide and they can't fit in locks designed hundreds of years ago. Maximum passengers on a European river ship may range from 85 to 200 guests.
Compare that to 5,400+ on the biggest ocean cruise ships. River boats can be quite small, too, more like private yachts and as tiny as 8-passenger luxury barge boats. If small and cozy is for you, consider a luxury barge on narrow canals in France or the Netherlands, mysterious Scottish lochs or Botswana's exotic Chobe River. Cruise aboard small boats on Alaska's Inland waterways, experience the eastern seaboard or the lengthy Intercoastal Waterway in the USA, with only a few dozen guests.
The wedding cake design of river ships that ply the Columbia and Mississippi rivers in the USA may have four or five decks and a bright red paddle wheel. Some are replicas of old time steam boats. These may accommodate from 200 to 450 passengers.
From the outside, river ships in Europe appear fairly similar. The differences, of course, are what's on the inside. River ships are also extremely lightweight which certainly helps keep them moving through low water levels. Love a soak in a whirlpool? Most newer river ships were built with one whirlpool to accommodate at most four people, elbow to elbow. Several of the newest river ships boast a swimming pool and some are indoors! Uniworld's S.S. Antoinette has an indoor pool with glass doors that open to the outside in summer. Emerald Waterways has a heated, infinity-edge pool at the aft that becomes a cinema at night.
2. Passenger demographic
River cruise passengers tend to be well-traveled, enjoy history and culture, retired (55 yrs. +) and with disposable income. They may have experienced several ocean cruises and want to try something slower, less crowded and a bit more intellectual. However, river cruises, especially in Europe, are becoming more popular for younger honeymooners, family reunions and those who want to try a cruise and being on the water, but not on a super-sized, ocean-going ship.
3. Who would like a river cruise?
Those who have been there, done that a zillion times on cruise ships are prime candidates for a leisurely river cruise. History buffs, wine enthusiasts, retired educators, and those looking for a slower pace without the glitz, non-stop action and mega-crowds found on many ocean-going vessels. On a river cruise, you're not cruising with 3,000 new-found "friends." Maybe 200 max in Europe and up to 450 on certain Mississippi river ships.
Those in search of a slower-paced vacation (you don't have to join the ship's planned excursions) can wander through new towns and cities on their own. Many river cruisers go for the immersive experience into local culture and cuisine. They tend to go off on their own to explore new sights and enjoy lunches and even dinners ashore when possible.
4. Children's programs on a river cruise
Ocean cruise ships, yes. River cruises, no. The only exceptions are special family-themed river cruises such as the partnership with Disney and AmaWaterways. Tauck Bridges also caters to multigenerational river cruises. Unless you choose a river cruise specifically targeted for children (usually seven years old minimum) don't expect to see little kids running through the corridors.
5. Dining on a river cruise
On a river cruise, everyone is expected to be seated for dinner in the dining room at one time, usually 7 p.m. While you can sashay into breakfast between 7 a.m.-9 a.m., and lunch from noon until 1:30pm (give or take based on itinerary schedule), guests on river cruises are expected to arrive to dinner on time as soon as the dining room is opened. Ocean cruises with their dine-when-you-want-to time doesn't exist on the rivers.
6. After-hours food
24-hour pizza on a river cruise? Ha-ha-ha! Carpets on river cruises are rolled up by 11p.m. Occasionally, the piano player/entertainer may keep things lively in the lounge until midnight. If you want a late night snack, head to the lounge at 10pm. That's when many of the cruise lines serve hot and/or cold snacks. Except for a handful of cruise lines and their top of the line suites, river ships don't offer room service. Want a late night snack? Wrap up some cookies or sweets when you see them at a buffet or coffee station and keep them in your room.
7. No sea days
On a river cruise, you almost always travel at night to awaken every day in a new port town or city. In fact, your captain might even make a surprise visit to a quaint village not on the itinerary, especially if there is a festival or local event that day. If you crave sea days, take an ocean cruise. Only exception: there may be a stretch on the Lower Danube or middle Mississippi where there just isn't anyplace to port, so you could have one or partial "river" day.
8. River cruise ports
On a river cruise, you can usually walk from your river ship right into the heart of the city or town. If the mooring happens to be a little too far to walk to town, there is usually a complimentary bus to whisk you into town, for example, in Vienna. No more gritty industrial ports miles from the city, as with some of the ocean cruise ships' itineraries.
9. No need to worry about getting seasick
First-time cruisers who are a bit jittery about mal de mer can test their mettle on a smooth-sailing river cruise. No seasickness, land is always in sight and the water may even be shallow enough to walk ashore if there was an emergency. The only motion you might feel is when your river ship passes a heavily-loaded cargo vessel.
10. How do the accommodations compare?
Smaller ships equal smaller accommodations except for maybe an Owner's Suite and a handful of Junior-type suites. But even in a top suite, they aren't condo-size like on ocean cruise ships. Rather than those 1,500+ square foot luxury suites on cruise ships, river ship suites are traditionally closer to 500 square feet. The majority of cabins average about 175 – 225 sq. feet while some are as small as 100 sq. feet or less.
11. What's the food like?
Meal time on a river cruise is a special event. No matter where in the world you choose to river cruise, the ship's chef will always prepare regional dishes that showcase your port or itinerary. Expect salmon and fresh fish in Alaska and Pacific Northwest river cruises. Meander the Mississippi and sample a mélange of French, Creole and Southern cuisine. Cruising the Rhine? There's bound to be a beer, brats and pretzels night. A river cruise through France of course features French food and wine. Cruise the Yangtze and yes, Asian food is the order of the day.
But wherever you go, there will always be an "American" menu option, that usually consists of a grilled steak or chicken breast, baked potato and steamed vegetables.
12. Dietary Restrictions
Many river cruise lines can prepare gluten-free, low or no sodium, vegan and vegetarian. It's necessary to notify the cruise line at least three weeks prior to your cruise. Kosher-style is available on special theme cruises, while totally kosher charter cruises are available aboard Scenic River Cruises and Crystal River Cruises, planned through various organizations.
13. What amenities can you expect?
River cruises are all or almost all inclusive. This means that bottled water in your cabin, wine, beer and soft drinks at lunch and dinner, some or all cocktails and shore excursions are included. Upscale toiletries, like L'Occitane, are supplied and replenished as needed. Most river cruise lines charge additional for premium spirits and also for drinks (spirits and wine) not during lunch and dinner. Viking River offers guests an option to purchase a premium beverage package, sort of an all-you-can-drink option. In the USA, river cruise lines include a complimentary cocktail party before dinner.
RIVERSHIPS DO NOT HAVE:
– Casinos – Rock climbing walls
– Water parks
– Enormous fitness centers
– Shopping arcades
– Multiple dining options
– Gala production entertainment.
-Disco nights. If you're looking for an all-night disco, you won't find one on a river ship. On a river cruise, your evening entertainment will include a resident piano player/singer, folkloric dance troupes, cabaret singers and regional historians.
14. How expensive are river cruises?
There aren't any $399 7-night river cruises. Prices may begin at $1,999 per person for a 7-night cruise and inch up several thousand dollars for longer and/or more exotic itineraries and suite accommodations. Mississippi River and Columbia River cruise prices usually begin at over $3,000 per person. Smaller rivers and waterways in North American can fetch an even higher price tag.
Occasionally, promotions pop-up on Europe river cruises that offer reduced or free airfare from the USA coupled with rock-bottom pricing for accommodations. Keep in mind that the advertised, really inexpensive deal on accommodations will be the stateroom on the lowest deck, closest to the engine room, off-season and you'll have windows at eye-level.
If pricing means the difference between going and not going, keep in mind that you can bring foam ear plugs, get fresh air on the sun deck and experience a unique view of the river at water-level. Don't let a careful budget stop you from going on a river cruise.
15. Besides Europe, what other itineraries are offered?
In the United States, old-fashioned but recently-built paddlewheelers and replicas of 19th century steamer ships ply the Mississippi and Columbia rivers and their tributaries. Small river boats, many the size of large yachts, cruise inland waters through Alaska, the Eastern Seaboard and the Great Lakes.
Exotic itineraries in Southeast Asia take intrepid passengers along miles of the Mekong and Yangtze rivers. If you crave adventure, head to South Africa's Chobe River to experience African wildlife. Further north on the African continent, several cruise lines offer Nile River cruises.
If you know what to expect, are ready for a change and enjoy socializing with a smaller group of fellow passengers, then a river cruise might be just what you should try on your next vacation.
16. Insider tip
While river ports in America are paved and ADA compliant, many port towns and nearby cities in Europe have uneven cobblestone sidewalks and streets. Passengers with limited mobility may find it difficult if not impossible to negotiate some of the historic sites and steep stairs found throughout Europe. Do consult with the cruise line before you book your cruise.
I'm the editor and creator of CruiseMaven.com, a solo traveler cruising the world on waves and wheels, collecting recipes along the way.  I hope my articles and photos entertain, advise and inspire you to travel the world without flying.  Take a breath…stop for a local meal and a glass of wine along the way.