The Celebrity Infinity arrived at Port Everglades in Ft. Lauderdale last Saturday, all revitalized and "Solsticized," ready to greet passengers and travel agents.
The second of four ships in Celebrity's Millennium class, the Celebrity Infinity returned from her drydock in the Bahamas full of the new features that have made Celebrity's newest Solstice class of ships so innovative and popular.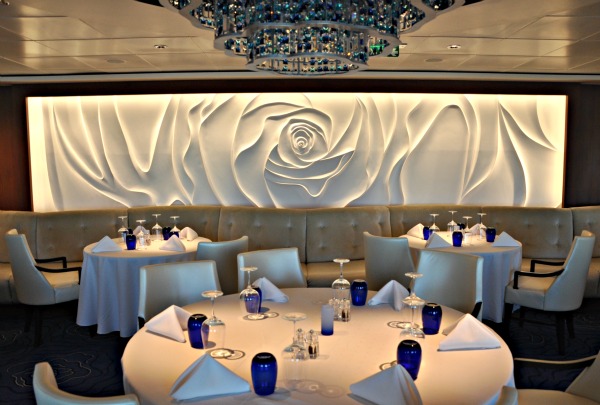 What's been added to the Infinity? To start, there are now 107 new Aqua class staterooms with privileges to dine in Blu, their private dining room.
Remember the "hole" in the floor in the Champagne/Martini Lounge overlooking the Rendezvous Lounge? well it's been filled in and replaced with Cellar Masters enomatic wine bar and Bistro On Five. The Rendezvous Lounge is still there, on Deck 4.
Perhaps one of the most exciting innovations to come from the Soltice class ships is Qsine, or as it's also called, the iPad restaurant. You have to try it just to understand it. At Qsine, your menu is an iPad, your meal is a fun twist on the familiar and the extraordinary culinary selections and the experience is totally unique.
Thinking of going "Mac?" Visit the iLounge and try out the iMac computers, take a class and learn your way around an Apple computer. If you love it, you can purchase a laptop right there and carry it home, without paying taxes on it. Prices seem to be the same as at an Apple store on land, too. Of course you'll still need to purchase an internet package when onboard to use your new MacBook.
If you're traveling with children, you'll be happy to know that the Fun Factory has been totally remodeled and expanded.
Michael's Club will now feature a plethora of imported and artisan beer selections and daily homemade snacks. I wonder where Perry Grant will perform once the Millennium becomes "Solsticized?"
Last but not least, my old favorite coffee bar, Cova Cafe, is now Cafe al Bacio and Gelateria. Great. Now I can get my caffeine fix AND gelato – one stop shopping at its finest!
Now that the work on the Infinity is finished, next up is the Celebrity Summit in January 2012 followed by the iconic Constellation in April.
More and more cruise lines opting to refurbish their older ships while also bringing new ships into the arena. Watch for the new Celebrity Reflection to make her debut in the fall of 2012, completing the family of five Solstice class ships.
For more information and to reserve your next Celebrity cruise, call a professional travel agent or visit Celebrity.com.
I'm the editor and creator of CruiseMaven.com, a solo traveler cruising the world on waves and wheels, collecting recipes along the way.  I hope my articles and photos entertain, advise and inspire you to travel the world without flying.  Take a breath…stop for a local meal and a glass of wine along the way.